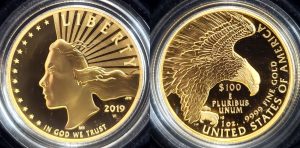 Collectors will have to pay more for United States Mint numismatic products made of gold and palladium, including American Eagle, American Buffalo, American Liberty, and upcoming commemorative coins.
Increases range from $32.50 to $300 per U.S. Mint coin. They are not the result of changes in LBMA gold prices as can happen weekly based on the Mint's regular pricing policy. Instead, they are straight upward revisions.
The numismatic products with their increased prices include:
American Eagle 1 oz. Gold Proof Coin +$297.50
American Eagle 1/2 oz. Ounce Gold Proof Coin +$150.00
American Eagle 1/4 oz. Gold Proof Coin +$75.00
American Eagle 1/10 oz. Ounce Gold Proof Coin +$32.50
American Eagle Gold Proof 4-Coin Set +$562.50
American Eagle 1 oz. Gold Uncirculated Coin +$300
American Buffalo 1 oz. Gold Proof Coin +305
American Eagle 1 oz. Palladium Reverse Proof Coin +$262.50
American Liberty 1 oz. Gold Coin +$300
American Liberty 1/10 oz. Gold Coin +$35
Commemorative $5 Gold Proof +$115.50
Commemorative $5 Gold Uncirculated +$115.50
The U.S. Mint's collection of gold, platinum and palladium coins have prices that can change weekly based on the trending value of gold as compared against its 2020 pricing matrix. The matrix with revised prices is expected to be published Wednesday. The agency's current gold coin prices are based on an average of gold last week that fell within $1,650.00 to $1,699.99 an ounce. Gold has since tumbled toward $1,530 an ounce.
On Thursday, the U.S. Mint will release its suite of 2020-W Proof American Gold Eagles.