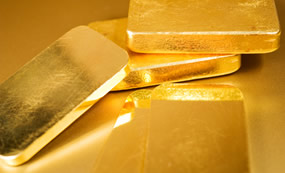 Precious metals sank Friday, padding their weekly losses. Gold futures closed at their lowest level this year and registered their biggest weekly decline since 2011.
Gold for April delivery on Friday lost $73.60, or 4.6%, to settle at $1,516.70 an ounce on the Comex division of the New York Mercantile Exchange. The settlement was the weakest since Dec. 26.
"While equity markets continue to be under pressure and there is a push towards liquidity across the markets, it wouldn't be unusual for gold prices to sell off as well," Reuters quoted Standard Chartered Bank analyst Suki Cooper.

"In the near-term, gold could see further downside because of the need to meet margin calls across other markets and if investors are preferring to move to cash and reduce risk exposure across the board."
Gold futures dropped 9.3% this week after rallying 6.8% last week. They are 0.4% lower on the year to date.
In looking ahead to next week, Kitco News offers the following forecasts via their Wall Street & Main Street surveys:
"Fifteen market professionals took part in the Wall Street survey. There were six votes, or 40%, for both higher and lower prices next week. Three participants, or 20%, were neutral or called for sideways prices.
 
Meanwhile, 1,434 votes were cast in an online Main Street poll. A total of 873 voters, or 61%, looked for gold to rise in the next week. Another 363, or 25%, said lower, while 198, or 14%, were neutral."
Elsewhere, silver for March delivery plummeted $1.505, or 9.4%, to close at $14.50 an ounce. The finish was the lowest since May 30. Silver futures tumbled 16% this week after surging 4.9% last week. They are 19.1% lower on the year.
In PGM futures on Friday and for the week:
April platinum lost $37.90, or 4.9%, to end at $743.90 an ounce, for a 17% weekly decline.

Palladium for June delivery plunged $405.80, or 21.2%, to finish at $1,509.10 an ounce, for a 38.1% weekly loss.
The dual are lower on the year so far with platinum down 23.9% and palladium down 21%.
London Precious Metals Prices
London precious metals prices also fell on Friday and for the week. In comparing their levels from Thursday PM to Friday PM:
Gold declined $7.90, or 0.5%, to $1,562.80 an ounce.
Silver fell 75.5 cents, or 4.6%, to $15.77 an ounce.
Platinum declined $27, or 3.3%, to $782 an ounce.
Palladium fell $296, or 14.5%, to $1,744 an ounce.
In LBMA weekly results, losses reached 7.2% for gold, 9.8% for silver, 12.6% for platinum, and 32.2% for palladium.
US Mint Bullion Sales in 2020
United States Mint bullion products logged solid weekly gains. Notably, sales of American Silver Eagles soared, resulting in their temporary sell out.
Below is a sales breakdown of U.S. Mint bullion products with columns listing the number of coins sold during varying periods.
US Mint Bullion Sales (# of coins)
January
February
Last Week
This Week
March
2020 Sales
$50 American Eagle 1 Oz Gold Coin
38,000
3,500
1,500
3,500
5,000
46,500
$25 American Eagle 1/2 Oz Gold Coin
23,000
2,000
0
0
0
25,000
$10 American Eagle 1/4 Oz Gold Coin
18,000
2,000
0
0
0
20,000
$5 American Eagle 1/10 Oz Gold Coin
60,000
20,000
10,000
5,000
15,000
95,000
$50 American Buffalo 1 Oz Gold Coin
21,000
1,000
3,000
2,000
5,000
27,000
$1 American Eagle 1 Oz Silver Coin
3,846,000
650,000
750,000
1,570,000
2,320,000
6,816,000
$1 American Eagle 1 Oz Platinum Coin
14,500
9,300
3,000
3,200
6,200
30,000