Just a few days after its companion quarter launched, the United States Mint released today the 2020-P National Park of American Samoa Five Ounce Silver Uncirculated Coin.
Like the quarter dollar, the design found on the silver coin's reverse is emblematic of the national park located in the U.S. territory of American Samoa. However, unlike the quarter, this coin is minted from 5 ounces of .999 fine silver and has an extremely large diameter of 3 inches.
The coin continues the U.S. Mint's America the Beautiful Five Ounce Silver Uncirculated Coin™ series which mirrors the quarter program. Both were introduced in 2010 and have seen five new issues annually with each honoring a different site of national interest. (One site was chosen from each state, the District of Columbia and the five U.S. territories.) The programs end next year with a final design.
Coin Designs and Specifications
Found on the new coin's reverse is a Samoan fruit bat mother hanging in a tree. Her pup is also shown, evoking the effort the species uses to nurture their young.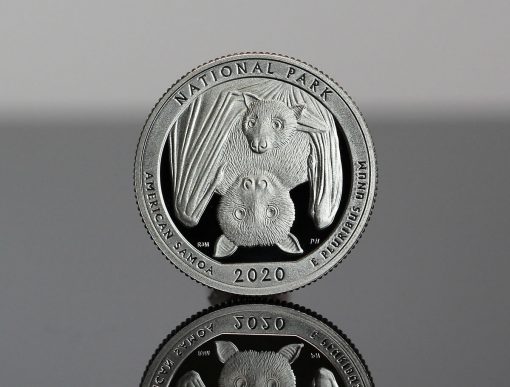 Inscribed around the image are NATIONAL PARK, AMERICAN SAMOA, 2020 and E PLURIBUS UNUM. Richard Masters created the design and Phebe Hemphill sculpted it.
Appearing on the coin's obverse (heads) is the John Flanagan portrait of George Washington. This image is a familiar one to most as it has appeared, with a couple of changes, on circulating quarter dollars since 1932.
Obverse inscriptions read UNITED STATES OF AMERICA, LIBERTY, IN GOD WE TRUST, and QUARTER DOLLAR. There is also a 'P' mintmark indicating the coin's production at the Philadelphia Mint.

An edge inscription on each piece shows its specifications of 999 FINE SILVER 5.0 OUNCE.
Five Ounce Silver Uncirculated Coin Specifications
Finish:
Uncirculated
Denomination:
Quarter
Composition:
99.9% Silver
Weight:
5.000 troy oz.
(155.517 grams)
Diameter:
3.000 inches
(76.20 mm)
Edge:
Lettered
Ordering and Price
The 2012-P National Park of American Samoa Five Ounce Silver Uncirculated Coin is available directly from the U.S. Mint's product page for silver coins. Orders may also be placed by calling 1-800-USA-MINT (872-6468).
Mintage is limited to 20,000 pieces with no household or ordering restrictions in place. Each coin is sold for $178.25, marking an increase of $23.30 from coins released in 2019.
Five Ounce Silver Bullion Coins
Bullion versions of these coins are also produced by the U.S. Mint. They have a brilliant finish unlike the vapor blast finish of the uncirculated coin, and they lack a mintmark despite also being produced at the Philadelphia Mint.
In addition, the Mint does not sell bullion coins directly to the public like their uncirculated coins. Instead, they are sold for a small premium over spot through the Mint's network of authorized purchasers.