The personal property of Neil Armstrong, the first man to walk on the moon, including flown mementos and classified NASA documents, highlights Heritage Auctions' Space Exploration Auction, Nov. 14-16.
The sale includes over 1,400 individual lots, which include nearly 750 lots directly from The Neil Armstrong Family Collection™.
A 6-1/2 inch by 4 inch flag from Armstrong's home state of Ohio that flew to the moon aboard Apollo 11 is expected to spark serious bidder interest because it touches on both the moonwalker's humble roots and his historic accomplishment for humanity, said Michael Riley, Director of Space Memorabilia at Heritage Auctions.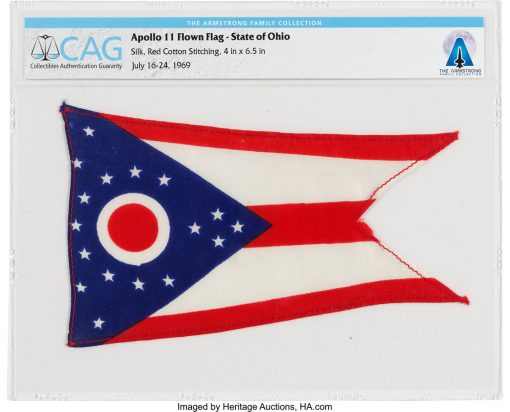 It is worth noting that this, and flags from Indiana, Mississippi, and Wisconsin in this sale, are the last state flags that will be offered from The Armstrong Family Collection™.
"Collectors will find a significant number of objects that Neil Armstrong retained for most of his life before and after his historic moon walk," Riley said. "These offering leans heavily on personal mementos and family gifts after his safe return."
The Armstrong Family Collection™ includes NASA documents, such as the last of NASA's biographical data sheets on the astronaut as well as an internal memo titled "Ground Rules For Lunar Mission Radiation," drawing attention to a rarely discussed, yet early concern regarding the Apollo lunar missions.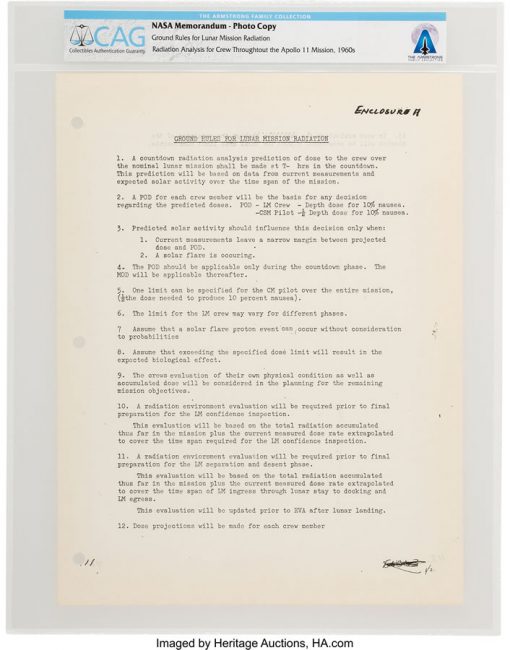 Collector's objects include Armstrong's personal NASA leather name tag, select coins from the astronaut's personal collection, a handwritten 1964 postcard to his wife, Janet, and highly-coveted Apollo 11-flown sterling silver Robbins Medallions and Apollo 11-flown American Flags are among standout objects consigned directly from the family.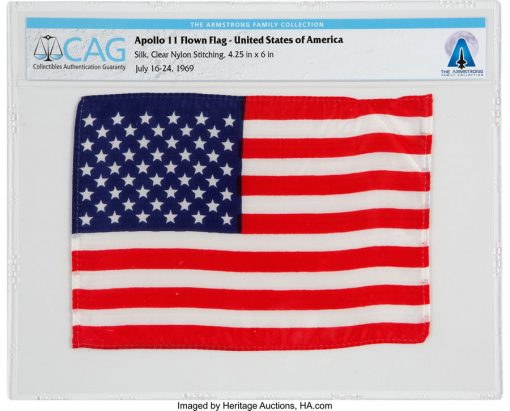 Items expected to draw intense interest is an Apollo 11 crew-signed "Type Three" insurance cover, featuring signatures by Armstrong, Michael Collins and Buzz Aldrin, bearing a pictorial machine cancellation from Kennedy Space Center dated July 16, 1969, the day that Apollo 11 was launched.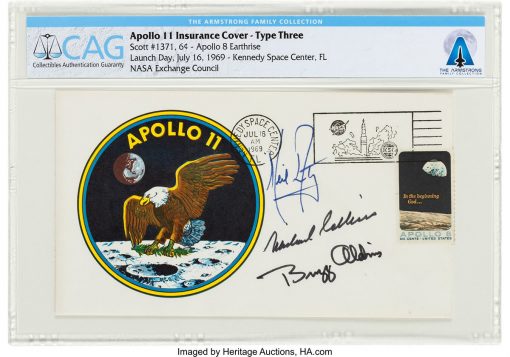 A one-of-a-kind Apollo 11 State Dinner crew-signed souvenir lunar replica plaque with Neil and Janet's Presidential Invitations for the event on August 13, 1969.
All of the lots from The Armstrong Family Collection™ are sold with a Statement of Provenance signed by Armstrong's sons, Rick and Mark.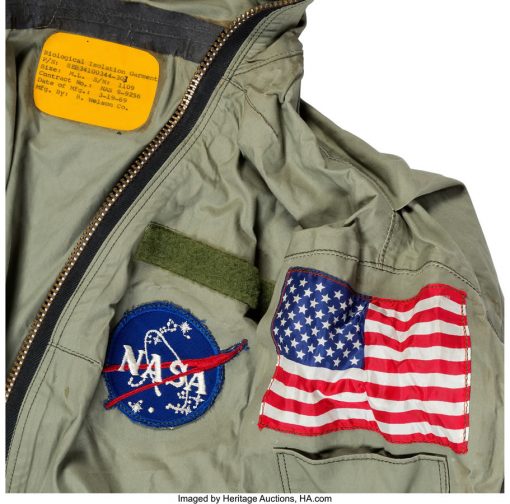 Many of the items from the family collection were painstakingly sealed or encapsulated by Collectibles Authentication Guaranty (CAG) for study by future generations. Armstrong's sons Rick and Mark have donated several items from the collection, and a significant portion of the auction proceeds, to museums and organizations worldwide, which support space exploration.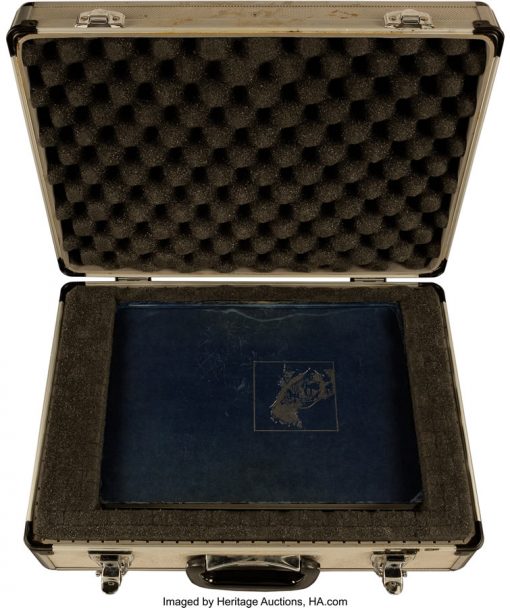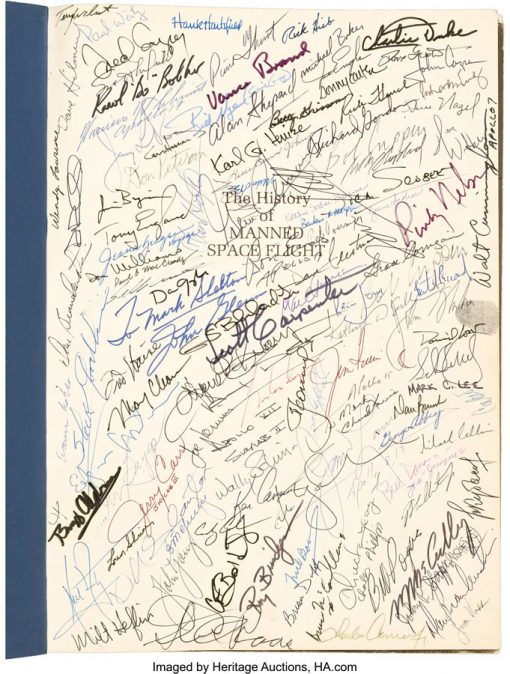 In addition to objects from Armstrong's personal life and times, the auction offers hundreds of pieces of unique and rare space memorabilia fit for museum collections and private collections alike consigned by collectors all over the world.
Bidding is open for Heritage Auctions' Space Exploration Auction featuring The Neil Armstrong Family Collection™, Part IV, taking place Nov. 14-16 live and online at HA.com.
Heritage Auctions (HA.com) is the largest fine art and collectibles auction house founded in the United States, and the world's largest collectibles auctioneer. Heritage maintains offices in New York, Dallas, Beverly Hills, San Francisco, Chicago, Palm Beach, London, Paris, Geneva, Amsterdam and Hong Kong.