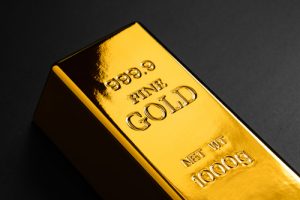 Gold futures declined on Friday, pulling prices lower for the week and taking them into the red for third quarter. Still, the yellow metal advanced in September and remains solidly higher on the year so far.
On Friday, gold for December delivery declined $8.90, or 0.7%, to settle at $1,317.10 an ounce on the Comex division of the New York Mercantile Exchange. The settlement is the lowest in two weeks, since Sept. 16, when gold ended at $1310.20 an ounce.
Gold futures fell 1.8% this week but edged up 0.4% in September. However, they posted a quarterly loss of 0.3%.
"The third quarter was a period of consolidation for gold after the furious run up so far this year," MarketWatch quoted Brien Lundin, editor of Gold Newsletter.
Gold is 24.2% higher than its final settlement in 2015 at $1,060.20 an ounce.
In looking ahead to next week, Kitco News offers the following forecasts via their Wall Street vs. Main Street survey:
"Twenty analysts and traders took part in a weekly Wall Street survey. Ten participants, or 50%, see sideways prices next week, while nine, or 45%, look for higher. Only one voter, or 5%, sees gold falling.

Meanwhile, 542 Main Street participants submitted votes in an online survey, the lowest participation since January. A total of 310 respondents, or 57%, said they were bullish for the week ahead, while 166, or 31%, were bearish. The neutral votes totaled 66, or 12%."
Elsewhere in bullion trading, silver for December delivery rose 2.6 cents, or 0.1%, to settle at $19.214 an ounce. Silver futures dropped 3% this week but posted gains of 2.7% in September and 3.2% for the quarter. They are $5.41, or 39.2%, higher on the year.
In PGM futures on Friday, for the week and for the month:
January platinum lost $2.70, or 0.3%, to $1,034.50 an ounce, for declines of 2.1% on the week and 1.8% in September.

Palladium for December delivery added $2, or 0.3%, to $721.50 an ounce, registering gains of 2.1% on the week and 7.7% on the month.
Both metals advanced in the third quarter, by 1% for platinum and 20.8% for palladium, and they have logged respective year-to-date gains of 15.8% 28.4%.
London Precious Metals Prices
London precious metals prices finished higher on Friday and in the third quarter, but mixed for the week and the month of September. In comparing their levels from Thursday PM to Friday PM:
Gold rose $4.40, or 0.3%, to $1,322.50 an ounce.
Silver added 34 cents, or 1.8%, to $19.35 an ounce.
Platinum gained $13, or 1.3%, to $1,034 an ounce.
Palladium climbed $13, or 1.8%, to $722 an ounce.
For the week, palladium jumped 4.6% while the other metal prices declined by 1.2% for gold, 2.4% for silver and 2% for platinum. London prices for platinum fell 1.5% in September. The others registered monthly gains of 1% for gold, 3.3% for silver and 7.1% for palladium.
As for last quarter, price advances include 0.1% for gold, 5.4% for silver, 3.5% for platinum and 22.6% for palladium.
US Mint Bullion Coin Sales in 2016
U.S. Mint bullion sales improved for a second month in a row — solidly for gold coins and more modestly for silver coins. In headline bullion coin comparisons:
American Eagle gold coins advanced 94,000 ounces in September for their best month since April. They jumped 60.7% from the August total of 58,500 ounces but slid 25.1% from the 125,500 ounces delivered in September of last year. Year to date sales total 692,000 ounces for a 3.3% increase over the 670,000 ounces sold during the first nine months of 2015.

American Buffalo gold coins moved up 17,500 ounces last month, rising 94.4% from August sales of 9,000 ounces but falling 20.5% from the 22,000 ounces sold in September 2015. Sales from the January to September period at 149,000 ounces are 12.6% lower than the 170,500 ounces sold during the same time last year.

American Eagle silver coins advanced 1,675,000 ounces in September, up 30.9% from the August tally of 1,280,000 ounces — their lowest monthly total since December 2013. However, they tumbled 56% from the 3,804,500 ounces delivered in September of last year. Sales of 2016 American Silver Eagles are at 30,575,500 coins for a 15.2% decline from the 36,054,500 coins delivered during the same period in 2015.

America the Beautiful Five Ounce Silver Bullion Coins advanced by 11,000 ounces last month after climbing by 147,000 ounces in August when the Theodore Roosevelt National Park coin launched.
Below is a sales breakdown of U.S. Mint bullion products with columns listing the number of bullion coins sold during varying periods Products with an asterisk (*) are no longer available.
US Mint Bullion Sales (# of coins)
Friday Sales
Last Week
This Week
Aug Sales
Sept Sales
2016 Sales
$100 American Eagle 1 Oz Platinum Coins*
–
1,000
–
20,000
$50 American Eagle 1 Oz Gold Coins
6,500
17,000
24,000
50,000
79,000
565,000
$25 American Eagle 1/2 Oz Gold Coins
0
0
1,000
3,000
5,000
56,000
$10 American Eagle 1/4 Oz Gold Coins
2,000
0
6,000
4,000
16,000
116,000
$5 American Eagle 1/10 Oz Gold Coins
5,000
15,000
20,000
60,000
85,000
700,000
$50 American Buffalo 1 Oz Gold Coins
2,500
5,500
4,500
9,000
17,500
149,000
$1 American Eagle 1 Oz Silver Coins
0
255,000
370,000
1,280,000
1,675,000
30,575,500
2016 Shawnee 5 Oz Silver Coins*
–
105,000
2016 Cumberland Gap 5 Oz Silver Coins*
–
75,000
2016 Harpers Ferry 5 Oz Silver Coins
0
200
0
1,900
200
36,300
2016 Theodore Roosevelt 5 Oz Silver Coins
0
0
-500
27,500
2,000
29,500