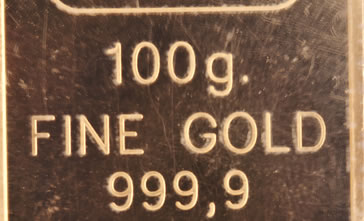 Most precious metals climbed Friday, padding their weekly increases. Gold not only moved ahead on the day and week, it posted exceptionally sharp gains in June, for the second quarter, and in the first half of 2019.
Gold for August delivery on Friday tacked on $1.70, or 0.1%, to settle at $1,413.70 an ounce on the Comex division of the New York Mercantile Exchange.
"Gold has surged over the past month as the [U.S. Federal Reserve's] amazing turn from hawks at the beginning of the year to doves today has finally shifted investor expectations," MarketWatch quoted Brien Lundin, editor of Gold Newsletter. "Investors have finally realized that we'll have ultra-low to negative real rates for long into the future, which is an extremely bullish tailwind for gold."
Gold futures scored weekly, June, quarterly and year-to-date advances of 1%; 7.8%; 8.9%; and 10.3%. On Tuesday, they finished at $1,418.70 an ounce for their highest settlement since Aug. 28, 2013.
In looking ahead to next week, Kitco News offers the following forecasts via their Wall Street & Main Street surveys:
"Seventeen market professionals took part in the Wall Street survey. A total of 10 voters, or 59%, called for gold to rise. There were one vote, or 6%, for lower, while six participants, or 35%, said neutral or sideways.

Meanwhile, 591 respondents took part in an online Main Street poll. A total of 320 voters, or 54%, called for gold to rise. Another 162, or 27%, predicted gold would fall. The remaining 109 voters, or 18%, saw a sideways market."
Elsewhere, silver for September delivery rose 4.7 cents, or 0.3%, to settle at $15.341 an ounce. Silver futures posted weekly, June and second quarterly increases of 0.3%; 5.3%; and 1.5%. The precious metal, however, is down 1.3% through the first half of 2019.
In PGM futures on Friday, for the week, and in June:
October platinum surged $23.60, or 2.9%, to $841.10 an ounce, logging gains of 3.7% on the week and 5.9% for the month.

Palladium for September delivery declined $1.30, or less than 0.1%, to $1,537.60 an ounce, but registered increases of 2.5% for the week and 15.5% for the month.
As for the second quarter, the pair divided with platinum down 1.5% and palladium up 14.6%.
Both are higher through the first half of 2019 with gains of 5.1% for platinum and 28.4% for palladium.
London Precious Metals Prices
London precious metals prices finished mixed on Friday and mostly higher on the week. In comparing their levels from Thursday PM to Friday PM:
Gold rose $6.50, or 0.5%, to $1,409 an ounce.
Silver shed 3 cents, or 0.2%, to $15.22 an ounce.
Platinum added $7, or 0.9%, to $818 an ounce.
Palladium declined $7, or 0.5%, to $1,524 an ounce.
In LBMA results for week, silver lost 0.5% while the others locked in gains totaling 0.9% for gold, 1.9% for platinum, and 1.6% for palladium.
In June, LBMA prices logged gains of 8.8% for gold, 5.1% for silver, 3.4% for platinum, and 11.2% for palladium.
As for the second quarter, platinum declined 3.8% while the others posted increases of 8.8% for gold, 0.8% for silver, and 9.6% for palladium.
In the first half of 2019, silver lost 1.6% as gold jumped 9.9%, platinum climbed 3% and palladium soared 20.7%.
US Mint 2019 Bullion Sales
Sales of U.S. Mint flagship American Eagle gold and silver bullion coins increased in June from May. Their year-to-date totals are mixed compared to last year with American Silver Eagles sales stronger and American Gold Eagles sales weaker. In headline comparisons:
American Eagle gold coins reached 5,000 ounces, rising 25% from the 4,000 ounces sold in May but dropping 79.6% from the 24,500 ounces moved in June of last year. 2019 American Gold Eagle sales at 109,000 ounces are 9.5% lower than the 120,500 ounces delivered during the first half of last year.

American Eagle silver coins advanced 1,035,000 ounces, marking gains of 19.5% from May's 866,000 ounces and 137.9% from June 2018 sales of 435,000 ounces. 2019 American Silver Eagle sales at 10,022,000 coins are 46.9% higher than the 6,822,500 coins sold through the same time in 2018.

American Buffalo gold coins reached 3,000 ounces, matching the prior month, but dropping 53.9% from the 6,500 ounces moved in June 2018. Year-to-date sales at 47,500 ounces are 3.3% lower than the 52,500 ounces sold during the first half of last year.

The final allotment of 2019 American Platinum Eagles sold in April with their total for the year ending at 40,000 coins. Last year's edition topped out at 30,000 coins.

America the Beautiful Five Ounce Silver Bullion Coin sales were flat in June. Two of five 2019-dated coins have been issued and they have combined sales of 158,000 units or 790,000 ounces. Last year through June the Mint had released three 5-ounce bullion coins for combined sales of 90,000 units or 450,000 ounces.
Below is a sales breakdown of U.S. Mint bullion products with columns listing the number of coins sold during varying periods. Products with an asterisk (*) are no longer available.
US Mint Bullion Sales (# of coins)
Friday
Last Week
This Week
April
May
June
2019 Sales
$50 American Eagle 1 Oz Gold Coin
1,000
0
1,000
6,500
3,500
4,500
78,500
$25 American Eagle 1/2 Oz Gold Coin
0
0
0
1,000
0
0
19,000
$10 American Eagle 1/4 Oz Gold Coin
0
0
0
2,000
0
0
26,000
$5 American Eagle 1/10 Oz Gold Coin
0
0
0
25,000
5,000
5,000
145,000
$50 American Buffalo 1 Oz Gold Coin
0
0
0
6,500
3,000
3,000
47,500
$1 American Eagle 1 Oz Silver Coin
180,000
0
485,000
1,196,000
866,000
1,035,000
10,022,000
American Memorial Park 5 Oz Silver Coin
0
0
0
N/A
78,000
0
78,000
Lowell 5 Oz Silver Coin*
N/A
80,000
$100 American Eagle 1 Oz Platinum Coin*
N/A
6,500
N/A
0
40,000