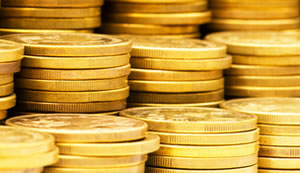 Gold futures settled near one-month highs on Friday, scoring their fourth straight week of gains.
Gold for December delivery added $1.20, or less than 0.1%, to finish at $1,304.50 an ounce on the Comex division of the New York Mercantile Exchange.
"Election fears and a weaker dollar was what helped push gold back above $1,300 this week," Bloomberg News quoted Jens Pedersen, a Danske Bank A/S analyst in Copenhagen. "At the same time, the market is looking for a rate hike later this year, though we think the Fed will wait until March."
Gold futures advanced 2.2% this week after three weekly gains of 0.3%; 1% and 0.7%. On Wednesday, they finished at $1,308.20 an ounce for their best close since Oct. 3. The yellow metal is now 23% higher than its final settlement in 2015 at $1,060.20 an ounce.
In looking ahead to next week, Kitco News offers the following forecasts via their Wall Street vs. Main Street survey:
"Seventeen market professionals took part in the Wall Street survey. Eleven participants, or 65%, look for gold to be higher next week. Three, or 18%, voted lower, with the same result for sideways. (The total adds up to 101 percentage points due to the effect of rounding).

Meanwhile, 507 Main Street participants submitted votes in either an online or Twitter survey. A total of 363 respondents, or 72%, said they were bullish for the week ahead, while 102, or 20%, were bearish. The neutral votes totaled 42, or 8%."
Elsewhere on Friday, silver for December delivery shed 4.5 cents, or 0.2%, to settle at $18.371 an ounce. Silver futures still advanced 3.2% this week, and like gold, logged their fourth straight weekly increase.
In PGM futures on Friday and for the week:
January platinum tacked on $10.10, or 1%, to $1,004.50 an ounce, for a 2.4% weekly gain.

Palladium for December delivery rose $7.20, or 1.2%, to $624.80 an ounce, finishing 1.4% higher on the week.
The pair are higher year to date — up by 12.5% for platinum and 11.2% for palladium.
London Precious Metals Prices
London precious metals prices were mixed on Friday and higher on the week. In comparing their levels from Friday PM to Monday PM:
Gold added $1.80, or 0.1%, to $1,302.80 an ounce.
Silver gained 23 cents, or 1.3%, to $18.30 an ounce.
Platinum added $17, or 1.7%, to $1,003 an ounce.
Palladium dipped $2, or 0.3%, to $625 an ounce.
Their weekly advances totaled 2.3% for gold, 3.9% for silver, 3.2% for platinum and 1.5% for palladium.
US Mint Bullion Coin Sales in 2016
U.S. Mint bullion sales jumped from a week earlier. In week-over-week comparisons:
Gold coins advanced 34,500 ounces after gaining 24,500 ounces previously. This week's splits include 27,000 ounces in American Gold Eagles compared to 21,000 ounces previously and 7,500 ounces in American Gold Buffalo compared to 3,500 ounces previously. American Eagle and Buffalo sales in October to date are the highest for a month since January.

Silver coin sales advanced 371,500 ounces after rising 252,500 ounces previously. The weekly splits include 370,000 ounces in American Silver Eagles compared to 250,000 ounces previously and 1,500 ounces in America the Beautiful Five Ounce Silver Bullion Coins compared to 2,500 ounces previously. Silver Eagle sales in October to date are the highest for a month since May.
Below is a sales breakdown of U.S. Mint bullion coins with columns listing the number of bullion coins sold during varying periods Products with an asterisk (*) are no longer available.
US Mint Bullion Sales (# of coins)
Friday Sales
Last Week
This Week
Oct Sales
Nov Sales
2016 Sales
$100 American Eagle 1 Oz Platinum Coins*
–
20,000
$50 American Eagle 1 Oz Gold Coins
6,000
17,500
23,000
100,500
16,500
682,000
$25 American Eagle 1/2 Oz Gold Coins
2,000
1,000
4,000
8,000
3,000
67,000
$10 American Eagle 1/4 Oz Gold Coins
4,000
4,000
4,000
16,000
4,000
136,000
$5 American Eagle 1/10 Oz Gold Coins
0
20,000
10,000
75,000
5,000
780,000
$50 American Buffalo 1 Oz Gold Coins
1,000
3,500
7,500
28,500
4,500
182,000
$1 American Eagle 1 Oz Silver Coins
0
250,000
370,000
3,825,000
220,000
34,620,500
2016 Shawnee 5 Oz Silver Coins*
–
105,000
2016 Cumberland Gap 5 Oz Silver Coins*
–
75,000
2016 Harpers Ferry 5 Oz Silver Coins
0
0
0
200
0
36,500
2016 Theodore Roosevelt 5 Oz Silver Coins
0
500
300
3,100
300
32,900