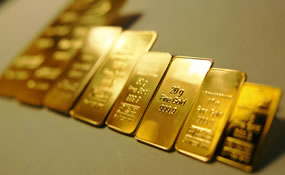 Precious metals futures gained Friday following sharp prior-day drops. Still, all but palladium declined on the week. Weekly losses in gold and silver were their third in a row.
Gold for June delivery rose $1.90, or 0.2%, to settle at $1,295.20 an ounce on the Comex division of the New York Mercantile Exchange.
"The dollar strength really hurt precious metals and we're seeing some of that reverse with most currencies running a little higher versus the dollar," Reuters quoted Chris Gaffney, president of world markets at TIAA Bank.

"We've got tame inflation, the trade situation is getting resolved and Brexit looks like it's going to be pushed down the road. So right now investors don't have any incentive to buy gold," Gaffney added.
Gold futures edged 40 cents lower this week, or less than 0.1%. They shed 0.2% last week and lost 1.1% in the week before then. On Thursday, the yellow metal settled at its lowest price since March 11. Gold is 1.1% higher on the year to date.
In looking ahead to next week, Kitco News offers the following forecasts via their Wall Street & Main Street surveys:
"Sixteen market professionals took part in the Wall Street survey. The bullish and bearish camps each attracted six votes, or 38%. Another four voters, or 25%, called for prices to be sideways or were neutral.

Meanwhile, 568 respondents took part in an online Main Street poll. A total of 299 voters, or 53%, called for gold to rise. Another 170, or 30%, predicted gold would fall. The remaining 99 voters, or 17%, saw a sideways market."
Elsewhere, silver for May delivery added 9.6 cents, or 0.7%, to end at $14.963 an ounce. Silver futures traded 0.8% lower this week after losses of 0.2% last week and 1.9% in the week before then. The precious metal is 3.7% lower on the year so far.
In PGM futures on Friday and for the week:
July platinum settled up $3.20, or 0.4%, to $898.50 an ounce, but logged a 0.8% weekly decline.

Palladium for June delivery tacked on $17.60, or 1.3%, to $1,350.20 an ounce, for a 0.3% weekly increase.
The pair of metals is higher on the year with advances of 12.2% for platinum and 12.8% for palladium.
London Precious Metals Prices
London precious metals prices ended mostly lower Friday and divided on the week. In comparing their levels from Thursday PM to Friday PM:
Gold declined $4.50, or 0.4%, to $1,294.30 an ounce.
Silver fell 9.5 cents, or 0.6%, to $15.065 an ounce.
Platinum added $1, or 0.1%, to $899 an ounce.
Palladium declined $14, or 1%, to $1,365 an ounce.
In LBMA results for the week, gold rose 0.5% and palladium gained 1% while silver shed 0.9% and platinum lost 0.4%.
US Mint 2019 Bullion Sales
United States Mint bullion sales slowed from a week ago. In headline week-over-week comparisons:
Gold bullion coins moved up by 2,000 ounces after rising by 6,000 ounces last week. Splits included 1,500 ounces in American Gold Eagles against 3,000 ounces previously and 500 ounces in American Gold Buffalos compared to 3,000 ounces previously.

American Silver Eagle sales were muted this week after rising by 550,000 ounces last week.

American Platinum Eagles rose by 500 ounces after climbing by 1,100 ounces last week.
Below is a sales breakdown of U.S. Mint bullion products with columns listing the number of coins sold during varying periods.
US Mint Bullion Sales (# of coins)
Friday
Last Week
This Week
February
March
April
2019 Sales
$100 American Eagle 1 Oz Platinum Coin
500
1,100
500
2,400
4,000
1,600
35,100
$50 American Eagle 1 Oz Gold Coin
500
2,000
1,000
11,000
8,500
3,000
67,000
$25 American Eagle 1/2 Oz Gold Coin
1,000
0
1,000
1,000
1,000
1,000
18,000
$10 American Eagle 1/4 Oz Gold Coin
0
2,000
0
0
4,000
2,000
26,000
$5 American Eagle 1/10 Oz Gold Coin
0
5,000
5,000
10,000
15,000
10,000
125,000
$50 American Buffalo 1 Oz Gold Coin
500
3,000
1,000
6,000
5,500
4,000
39,000
$1 American Eagle 1 Oz Silver Coin
0
550,000
0
2,157,500
850,000
550,000
7,575,000
Lowell 5 Oz Silver Coin
0
0
0
N/A
80,000
0
80,000