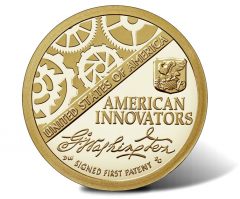 On Friday, Dec. 14, the United States Mint will formerly introduce its multi-year American Innovation™ $1 Coin Program.
The official ceremonial launch will take place at the Mint's new Coin Store in Washington, D.C., beginning at 11:30 EST.
Event highlights include a ribbon-cutting ceremony signaling the beginning of the new series followed by an autograph signing session by U.S. Mint Director David Ryder.
In addition, products containing the introductory 2018 American Innovation dollar will be available for purchase after the event. As previously discussed, they will also be sold at the Mint's online store.
The launch ceremony's time and location details follow:
Date: Friday, December 14, 2018
Time: 11:30 a.m. (EST)
Location:
United States Mint Headquarters
801 9th Street NW
Washington, D.C. 20220
The series of American Innovation $1 Coins will honor innovation or innovators in each State, District of Columbia, Puerto Rico, Guam, American Samoa, U.S. Virgin Islands, and Northern Mariana Islands. Going forward from 2018, they will be released at a rate of four per year until the program's conclusion in 2032.