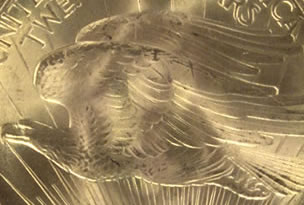 The U.S. Mint (www.usmint.gov) will be displaying 3 1933 Saint-Gaudens $20 gold double eagles during the American Numismatic Association 2018 World's Fair of Money® (www.WorldsFairOfMoney.com) in Philadelphia Aug. 14 to 18. The exhibit will include a previously unknown piece.
The display will feature two of the ten pieces recovered by the government in 2004. Those coins were the subject of 11 years of litigation, which was resolved last year in favor of the government.
The Mint will also display the previously undisclosed specimen that was voluntarily and unconditionally given over to the government by a private citizen who requested to remain anonymous.
In March of 1933, as one of the many measures designed to reverse the Great Depression, President Franklin Delano Roosevelt issued a proclamation prohibiting payment of gold coin. This resulted in the melting of 445,500 1933-dated Double Eagles previously struck at the Philadelphia Mint.
U.S. Mint records clearly establish that no 1933 $20 Double Eagles were ever issued or released to the public as legal tender. The only specimens to leave the Mint lawfully were two 1933 Double Eagles provided to the Smithsonian Institution for preservation in the National Numismatics collection. Subsequently, one specimen recovered in 1996 became the subject of a unique settlement. The coin was monetized, issued by the United States Mint, and sold at auction in 2002 for $7.6 million.
Unlike nine specimens that were recovered during the 1940s and 50s, none of the specimens in Mint custody will be melted. United States Mint Director David J. Ryder said, "The United States Mint recognizes all of the country's recovered 1933 Double Eagles as national numismatic treasures."
Attendees of the Philadelphia show can see the 3 double eagles at the Mint's booth, #218.