Heritage Auctions (HA.com) will offer a range of PCGS-certified coins during the Long Beach Expo (LongBeachExpo.com) held June 14 to 18, including a Class I Original 1804 Draped Bust silver dollar.
The Mickley-Hawn-Queller specimen, graded PCGS PR-62, will cross the auction block during the week's June 14 Premier evening session.
"Only eight Class I examples are known of the fabled 1804-dated dollars, one of the most popular of all United States rare coins. This one certainly will become the highlight of its next proud owner's collection," said PCGS President Don Willis.
According to PCGS CoinFacts (PCGSCoinFacts.com), even though the date on the coin is 1804,
"…the first 1804 silver dollars were struck in or about 1834 when orders came from the State Department for special sets of coins to be struck for diplomatic purposes."
Some of the remarkable PCGS-certified coins that will be offered on Thursday, June 14, in the Premier section of Heritage's June 14-17 Long Beach Signature Auction are in the older, green insert label holders.
"Among the major attractions in the auction are outstanding items from a 22-coin type set, and each coin was carefully chosen for rarity and condition," explained Willis.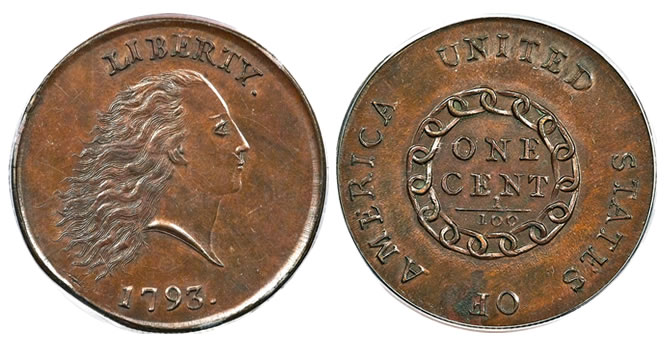 In addition to the 1804 dollar, other highlights from that type set include:
One of the finest known 1793 Chain America cents With Period (S-4, B-5, R.3). It is graded PCGS MS-65 BN CAC and was formerly in the Eliasberg Collection.

1794 Flowing Hair Bust Dollar, graded PCGS XF-40 CAC, a rare example of the first silver dollars struck by the United States Mint.

1907 Saint-Gaudens $20 High Relief, Wire Rim, PCGS MS-67 CAC, described by Heritage as "an amazing coin" with surfaces that "are essentially perfect… the satiny mint luster glows."
"The Long Beach Expo continues to be an excellent location for conducting our auctions on-site and online around the world. Heritage is proud to be the official auctioneer of the show," said Heritage Auctions Executive Vice President Todd Imhof.
Since its founding in 1986, PCGS experts have certified over 38 million coins with a total market value of over $33 billion. For information about PCGS products and services, including how to submit your coins for authentication and grading, visit www.PCGS.com or call PCGS Customer Service at (800) 447-8848.