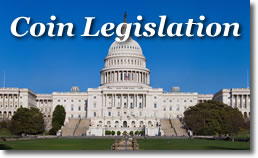 New legislation in the U.S. House proposes a multi-year program of quarters with designs commemorating the 19th Amendment, which granted American women the right to vote.
The bill, numbered H.R. 5308 and titled "Women's History and Nineteenth Amendment Centennial Quarter Dollar Coin Program Act," was introduced March 15, 2018 by Representatives Barbara Lee (D-CA) and Bruce Poliquin (R-ME).
"Since our nation's founding, women have played an instrumental role in shaping this country — even though their sacrifices and accomplishments have often gone unrecognized by history," Congresswoman Lee said. "This important bill, introduced during Women's History Month, is designed to correct this historic wrong."
H.R. 5308 calls for reverse quarter designs that are emblematic of the accomplishments and contributions of a prominent woman who was a resident of a State, the District of Columbia, or five U.S. Territories. They would appear at a rate of 5 per year, similar to the past U.S. Mint's 50 state series and the current America the Beautiful series, and would launch in alphabetical order of the area represented, starting with Alabama.
"By using a credible, legitimate and thoughtful process of educational and community stakeholder outreach similar to the currency redesign process in 2015, this program could provide the first-ever opportunity to institutionalize historical American women into classrooms across the country since curriculum standards are primarily determined at the state level," said former Treasurer of the United States Rosie Rios.
The Treasury Secretary would select every quarter design after consulting with the governor or chief executive of each state or territory and other area stakeholders, including women's groups and organizations. As traditional, the designs would also be reviewed by the Commission of Fine Arts (CFA) and the Citizens Coinage Advisory Committee (CCAC).
Selected designs, however, could not bear:
a head and shoulders portrait or bust of any person, living or dead;
a portrait of a living person; or
a depiction of an individual in a size such that the coin could be considered to be a '2-headed' coin.
The last quarter in the America the Beautiful series is scheduled for 2021 but the Treasury Secretary has the option until the end of this year to extend it with another round of 56 quarters. H.R. 5308 would change that, calling for the final park quarter to launch no earlier than Jan. 1, 2021 and not later than March 31, 2021. The new series would then start on April 1, 2021.
When it ended, the quarter's reverse design would change to show General Washington crossing the Delaware River prior to the Battle of Trenton.
For H.R. 5308 to become law, it must pass in the House and Senate and get signed by the President. If enacted, the quarter series would coincide with the centennial of the Aug. 18, 1920 ratification of the 19th Amendment. H.R. 5308 has been referred to the House Committee on Financial Services.