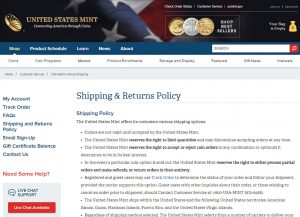 To curb excessive returns of collector products, the United States Mint this week announced an update to its return policy.
"Effective immediately, the Mint reserves the right to limit or refuse returns from purchasers who demonstrate return rates that exceed two percent," the agency said in a notice.
Customers with too many returns will first receive a notice to review their account so they can consider "making changes to their purchase practices." Those who then continue to return products above the two percent rate will receive a second notice advising them that the Mint will no longer accept their returns. As a final option for abusers, the Mint can suspend customer accounts.
The Mint is keeping in reserve the right to charge a fee for excessive returns.
The U.S. Mint notes that its updated policy will only affect a small number of customers, and that it does not apply to valid product quality issues.