Professional Coin Grading Service (www.PCGS.com) will offer a special label for 2018-W Proof American Silver Eagles submitted Jan. 4 to 7 during the 63rd annual Florida United Numismatists (FUN) convention in Tampa, Florida.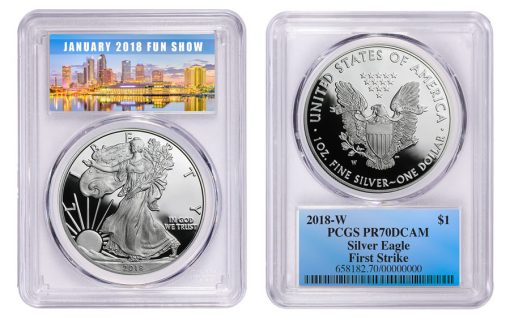 The United States Mint will launch the 2018-dated Silver Eagle on the same day the show kicks off, Jan. 4, giving coin show attendees a unique opportunity to own a graded coin not available to many.
"These special PCGS labels for the 2018 FUN Show are only the first examples of the labels we have planned for 2018," said Mark Stephenson, Vice President of PCGS. "There are a lot of exciting coins coming from the U.S. Mint again… we've got some great labels to reveal that help all these new coins stand out with our unique labeling combined with our ultra-secure coin holders."
The obverse of the FUN Show label features a beautiful sunset cityscape showing the Tampa Convention Center. Above the city skyline, the label reads, "January 2018 FUN Show" in all-caps.
The label's reverse shows the year, mint mark, denomination, certification details and grade on a standard PCGS gradient blue field.
As the show coincides with the initial release of the West Point Proof American Silver Eagle, all such coins submitted at the show are eligible to receive the special FUN Show label.
Information about submission guidelines and fees for the special labels can be found online at www.pcgs.com/labels, and submission information and guidelines for First Strike designation labels is at www.pcgs.com/firststrike.
These 2018-W Proof American Silver Eagles are also among the first coins eligible for PCGS's new service, PCGS Gold Shield™. PCGS Gold Shield will replace PCGS Secure™ on January 1, 2018. PCGS Gold Shield is the new standard in the coin industry for anti-counterfeiting technology.
Since its founding in 1986, PCGS experts have certified over 37 million coins with a total market value of over $32 billion. For information about PCGS products and services, including how to submit your coins for authentication and grading, visit www.PCGS.com or call PCGS Customer Service at (800) 447-8848.
PCGS is a division of Collectors Universe (NASDAQ: CLCT).