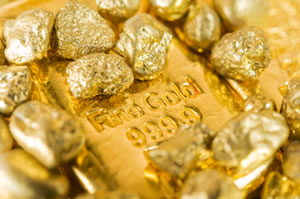 Gold and silver futures rallied Friday as the U.S. dollar weakened against other world currencies. Both metals closed at about one-month highs, banking solid weekly increases.
Gold for December delivery tacked on $18.30, or 1.4%, to settle at $1,296.50 an ounce on the Comex division of the New York Mercantile Exchange. The settlement is the highest since Oct. 16 when prices ended at $1,303 an ounce.
There's "a lot of concern that the equity market rally is possibly becoming a little exhausted for now, and that should be supportive of gold in the short term," Reuters quoted Jonathan Butler, commodities analyst at Mitsubishi in London.
Gold futures traded 1.8% higher this week after rising 0.4% last week. They dropped a combined 2.7% during the three straight weekly losses before then. The yellow metal is 12.6% higher so far this year.
In looking ahead to next week, Kitco News offers the following forecasts via their Wall Street vs. Main Street survey:
"A total of 16 market professionals took part in the Wall Street survey. Nine, or 56%, called for gold to rise. Six participants, or 38%, are neutral or else look for gold to be sideways, while only one, or 6%, said lower.

Meanwhile, 563 votes were cast in an online Main Street poll. A total of 314 voters, or 56%, looked for gold to rise in the next week. Another 147, or 26%, said lower, while 102, or 18%, were neutral."
Silver for December delivery advanced 30.1 cents, or 1.8%, to settle at $17.373 an ounce. The close is the strongest since Oct. 13 when prices finished at $17.411 an ounce. Silver futures surged 3% this week after gains of 0.2% last week and 0.5% the week before then. Prices are 8.7% higher on the year to date.
In PGM futures on Friday and for the week:
January platinum moved up $18.40, or 2%, to $954.60 an ounce, for a 2.4% weekly gain.

Palladium for December delivery added $8.05, or 0.8%, to $992.90 an ounce, but slipped 20 cents on the week.
The pair is higher on the year so far with increases of 5.4% for platinum and 45.3% for palladium.
London Precious Metals Prices
London precious metals prices ended higher Friday and pretty much unchanged for the week. In comparing their levels from Thursday PM to Friday PM:
Gold rose $4.35, or 0.3%, to 1,284.35 an ounce.
Silver gained 4.5 cents, or 0.3%, to $17.085 an ounce.
Platinum added $6, or 0.6%, to $937 an ounce.
Palladium rose $14, or 1.4%, to $997 an ounce.
For the week in London bullion prices, gold edged up just 5 cents, silver rose 0.5%, platinum was flat and palladium shed 0.3%.
US Mint Bullion Sales in 2017
United States Mint bullion sales picked up from a week ago — for both gold and silver coins. In headline weekly comparisons:
Gold coins climbed by 4,000 ounces this week compared to 2,000 ounces last week. Splits include 3,500 ounces in American Gold Eagles versus 1,500 ounces previously, and 500 ounces in American Gold Buffalos just like last week.

Silver coins advanced by 329,500 ounces this week after rising by 90,000 ounces last week. American Silver Eagles accounted for all silver sales last week. This week, splits included 175,000 ounces in American Silver Eagles and 154,500 ounces in ATB 5-ounce silver bullion coins. All of the 5-ounce sales were from the newly released coin honoring George Rogers Clark National Historical Park in Indiana.
Below is a sales breakdown of U.S. bullion products with columns listing the number of coins sold during varying periods. Products with an asterisk (*) are no longer available.
US Mint Bullion Sales (# of coins)
Friday
Last Week
This Week
October
November
YTD
$100 American Eagle 1 Oz Platinum Coin
0
0
0
0
0
20,000
$25 American Eagle 1 Oz Palladium Coin*
0
0
0
0
0
15,000
$50 American Eagle 1 Oz Gold Coin
0
1,500
2,500
11,000
5,000
186,000
$25 American Eagle 1/2 Oz Gold Coin
0
0
0
2,000
0
32,000
$10 American Eagle 1/4 Oz Gold Coin
0
0
0
2,000
0
58,000
$5 American Eagle 1/10 Oz Gold Coin
0
0
10,000
30,000
10,000
370,000
$50 American Buffalo 1 Oz Gold Coin
0
500
500
7,000
1,000
84,500
$1 American Eagle 1 Oz Silver Coin
0
90,000
175,000
1,040,000
265,000
17,203,500
2017 Effigy Mounds 5 Oz Silver Coin
0
0
0
0
0
35,000
2017 Frederick Douglass 5 Oz Silver Coin
0
0
0
0
0
20,000
2017 Ozark Riverways 5 Oz Silver Coin
0
0
0
0
0
20,000
2017 Ellis Island 5 Oz Silver Coin*
0
0
0
0
0
40,000
2017 George Rogers Clark 5 Oz Silver Coin*
0
N/A
30,900
N/A
30,900
30,900