Perth Mint of Australia releases for November are dominated once again by Lunar Year of the Dog coins. However, there are several other unique issues that also might just be of interest to collectors.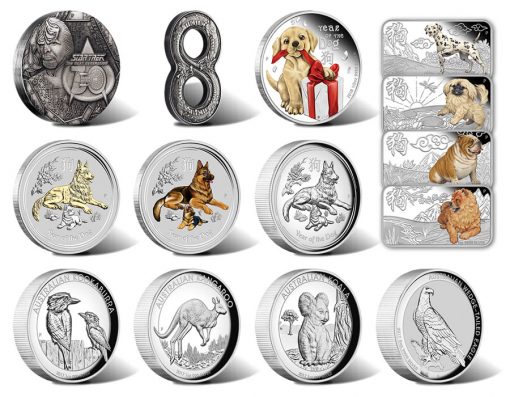 Among other issue for the month are a kangaroo coin, a koala coin, a kookaburra coin, a 5oz silver wedge-tailed eagle coin, a figure eight dragon antiqued silver coin, and a silver coin illustrating a likeness of Lieutenant Commander Worf from Star Trek: The Next Generation.
Images and summary information for the November collector coins is available below.
2018 Year of the Dog 1oz Silver Proof High Relief Coin
2018 is the Year of the Dog according to the Chinese zodiac and it is celebrated on several new coins from The Perth Mint, including this 1oz. silver proof in high relief. Seen on the coin's reverse (tails side) is a German shepherd dog and pup lying in grass with Chinese peony flowers in the background.
Each is produced in 99.99% pure silver. Mintage for the lunar high relief coin is set at 7,500 pieces. This is a Tuvalu legal tender coin.
2018 Year of the Dog 1oz Silver Gilded Edition
Like the previous coin, the gilded edition showcases a German shepherd dog along with its pup. However, the adult canine is gilded in 24 karat gold to enhance the detail.
The release is available in two product choices — a coin and presentation case and a coin in capsule with certificate. The latter is given as an option to place in a 12-coin display case that is also sold by the Mint. Mintage for this 1 oz. 99.99% pure silver coin is 50,000 pieces.
2018 Year of the Dog 1 Kilo Silver Gemstone Edition
Issued as the eleventh of twelve gemstone designs, The Perth Mint offers this Year of the Dog Kilo Silver Gemstone Coin which features the same design as the above coins but with the two dogs in colour.
In addition, a sparkling blue sapphire is set into the eye of the adult dog. The mintage limit is only 500 pieces. This coin is minted in a kilo of 99.99% fine silver.
2018 Year of the Dog Silver Proof Rectangle Four-Coin Set
Dog lovers have another option with different breeds — a chow chow, a dalmation, a pekingese and a British bulldog — featured on four rectangular silver coins offered in a set.
The Tuvalu legal tender proof coins are in 1oz. of 99.99% fine silver. The mintage limit is 3,000.
2018 Baby Dog 1/2 oz Silver Proof Coin
A perfect holiday gift idea for the dog lover in your life is the new Baby Dog 1/2 oz Silver Proof Coin. A coloured Labrador puppy tugging on the wrapping of a present appears on coin's reverse.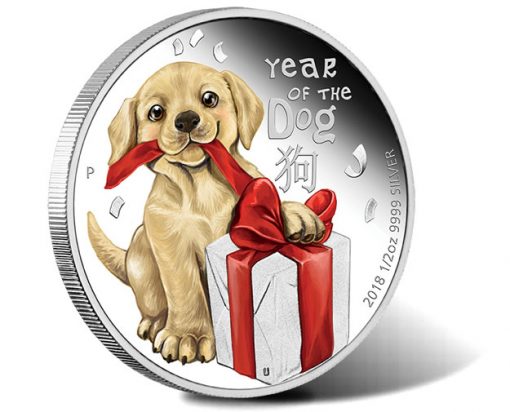 Struck in 99.99% pure silver, each is produced as legal tender of the island nation of Tuvalu with a face value of 50 cents. Mintage limit is 7,500.
2017 Wedge-Tailed Eagle 5 oz Silver High Relief Coin
Former Chief Engraver of the United States Mint John M. Mercanti created the wedge-tailed eagle design found on the reverse of this massive 5oz silver. The bird is shown in high relief enhancing the detail.
Mintage for the piece is limited at 2,000. Each is produced from 99.99% pure silver with an Australian legal tender face value of 8 dollars.
2018 Figure Eight Dragon 2 oz Silver Antiqued Coin
This 2oz 99.99% fine silver coin is yet another unique product from The Perth Mint. As indicated by its "Figure Eight Dragon" name, the 2018-dated coin is shaped like a figure eight. Its reverse shows two dragons wrapped around one another and holding coins in their claws. Each coin is individually antiqued.
In keeping with the theme of '8', its mintage is capped at 8,888.
2017 Australian High Relief 1 oz Silver Proof Three-Coin Collection
A Kangaroos, Koala and Kookaburras adorn the coins found in this three-piece collection. Each creature is presented in high relief offering additional detail not found in standard versions.
The coins are proof quality in 1oz 99.9% pure silver. Issue limit for the set is 1,000.
2017 Star Trek: The Next Generation Worf Silver Antiqued Coin
Star Trek: The Next Generation commemorates thirty years since its television debut in 1997. This 2oz .9999 fine silver coin with an antiqued finish is released as part of the TV series' 30th anniversary celebration
Found on its reverse is an image of actor Michael Dorn as he appeared as Lieutenant Commander Worf. Alongside the depiction is the show's 30th anniversary logo.
Mintage limit is 1,701. This is a Tuvalu legal tender coin.
TM & © 2017 CBS Studios Inc. STAR TREK and related marks and logos are trademarks of CBS Studios. All Rights Reserved.
Ordering
Perth Mint Australian collector coins may be ordered directly from The Perth Mint's website at www.perthmint.com.au. You may also follow this affiliate link to see the Mint's new releases.