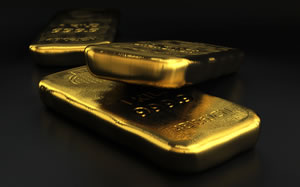 Precious metals futures declined on Friday but gold sat alone with a weekly loss — its third in a row. The yellow metal also closed the week at a nearly three-month low.
Gold for December delivery declined $8.90, or 0.7%, to settle at $1,269.20 an ounce on the Comex division of the New York Mercantile Exchange. The settlement is the lowest since Aug. 8 when prices ended at $1,262.60 an ounce. 
"For gold, none of the economic data this morning [Friday] presented a reason to think the [Federal Reserve] won't move forward with a rate hike next month and that has pushed the two-year [note] yield up towards the 2017 highs," MarketWatch quoted Tyler Richey, co-editor of the Sevens Report. "With inflation still very subdued and lower duration rates rising, the appeal of nonyielding safe havens, like gold, is quickly deteriorating as real interest rates rise."
Gold futures traded 0.2% lower this week after sliding 0.7% last week and falling 1.9% the week before then. They are 10.2% higher so far this year. In looking ahead to next week, Kitco News offers the following forecasts via their Wall Street vs. Main Street survey:
"The number of sideways Wall Street votes was higher than normal this week. A total of 19 market professionals took part in the survey, with eight participants, or 42%, voting neutral and the same number for higher. The remaining three votes, or 16%, said lower.

Meanwhile, 726 votes were cast in an online Main Street poll. A total of 425 voters, or 59%, looked for gold to rise in the next week. Another 206, or 28%, said lower, while 95, or 13%, were neutral."
Silver for December delivery dropped 30.3 cents, or 1.8%, to settle at $16.834 an ounce. Silver futures climbed 0.5% this week after two straight weeks of 1.9% losses. Prices are 5.3% higher on the year to date.
In PGM futures on Friday and for the week:
January platinum lost $5.90, or 0.6%, to $921.90 an ounce, but logged a 0.8% weekly gain.

Palladium for December delivery fell $2.50, or 0.3%, to $991.50 an ounce, but jumped 3.5% on the week.
Both metals are higher on the year so far with increases of 1.8% for platinum and 45.1% for palladium.
London Precious Metals Prices
London precious metals prices ended mixed on Friday and higher on the week. In comparing their levels from Thursday PM to Friday PM:
Gold fell $12, or 0.9%, to 1,267.20 an ounce.
Silver rose a half-cent, or 0.03%, to $17.085 an ounce.
Platinum declined $9, or 1%, to $922 an ounce.
Palladium fell $7, or 0.7%, to $995 an ounce.
For the week, their gains totaled 0.06% for gold, 2.2% for silver, 0.5% for platinum and 2.4% for palladium.
US Mint Bullion Sales in 2017
United States Mint bullion sales were mixed this week from last — a bit stronger for gold cons and sharply lower for silver coins. In headline weekly comparisons:
Gold coins climbed by 4,000 ounces this week compared to 3,000 ounces last week. Splits include 2,500 ounces in American Gold Eagles versus 2,000 ounces previously, and 1,500 ounces in American Gold Buffalos compared to 1,000 ounces previously.

Silver coins rose by 40,000 ounces after rising by 250,000 ounces last week. American Silver Eagles accounted for all silver sales each week.
Below is a sales breakdown of U.S. bullion products with columns listing the number of coins sold during varying periods. Products with an asterisk (*) are no longer available.
US Mint Bullion Sales (# of coins)
Friday
Last Week
This Week
October
November
YTD
$100 American Eagle 1 Oz Platinum Coin
0
0
0
0
0
20,000
$25 American Eagle 1 Oz Palladium Coin*
0
0
0
0
0
15,000
$50 American Eagle 1 Oz Gold Coin
0
2,000
2,000
11,000
1,000
182,000
$25 American Eagle 1/2 Oz Gold Coin
0
0
0
2,000
0
32,000
$10 American Eagle 1/4 Oz Gold Coin
0
0
0
2,000
0
58,000
$5 American Eagle 1/10 Oz Gold Coin
0
0
5,000
30,000
0
360,000
$50 American Buffalo 1 Oz Gold Coin
0
1,000
1,500
7,000
0
83,500
$1 American Eagle 1 Oz Silver Coin
0
250,000
40,000
1,040,000
0
16,938,500
2017 Effigy Mounds 5 Oz Silver Coin
0
0
0
0
0
35,000
2017 Frederick Douglass 5 Oz Silver Coin
0
0
0
0
0
20,000
2017 Ozark Riverways 5 Oz Silver Coin
0
0
0
0
0
20,000
2017 Ellis Island 5 Oz Silver Coin*
0
0
0
0
0
40,000