Maple leaf coin lovers have a new option from the Royal Canadian Mint with the 2018 Pure Silver Rose Gold-Plated Maple Leaf Quartet.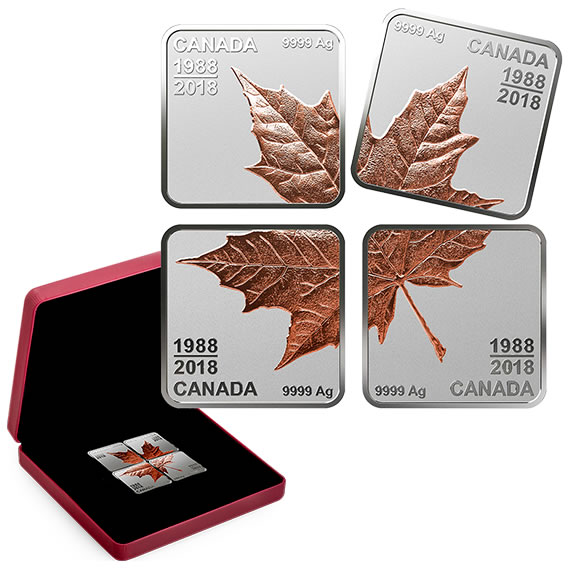 The quartet set celebrates thirty years of Silver Maple Leaf bullion coins from the RCM. Since their introduction in 1988, they have become one of the most sought after coins in the world for both investors and collectors.
The set includes four different $3 silver square coins which create a larger square when put together, completing a sugar maple leaf design. This reverse proof design is further enhanced with a selective use of rose gold plating.
Canadian artist Pierre Leduc created the maple leaf design shown on the reverse (tails side) of each quartet. Inscriptions include "CANADA", "9999 Ag" and the thirty-year acknowledgment dates of "1988" and "2018".
Quarter obverses (heads side) offer a portrait of Queen Elizabeth II by Susanna Blunt. Inscriptions read "Elizabeth II", "D G REGINA" and the legal tender face value of 3 DOLLARS.
Specifications as provided by the Royal Canadian Mint are as follows:
Mintage: 6,500
Composition: 99.99% pure silver
Finish: reverse proof
Weight (g): 11.85
Diameter (mm): 27 mm x 27 mm (each)
Edge: plain
Certificate: serialized
Face value: 3 dollars (each)
Reverse Artist: Pierre Leduc
Obverse Artist: Susanna Blunt
Ordering
The 2018 Pure Silver Rose Gold-Plated Maple Leaf Quartet may be ordered directly from the Royal Canadian Mint at mint.ca or via this affiliate link. Pricing is CAD $204.95 or about US $162.