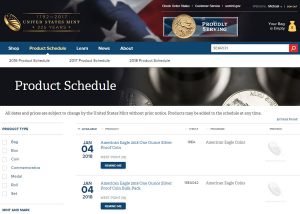 On Wednesday, Oct. 18, the United States Mint published its product schedule for 2018. There are the usual listings of annual sets, quarters, dollars and precious metals coins; and then there are unique products you don't see every year.
Exact release dates will be published quarterly, according to the U.S. Mint, so products shown beyond March are simply listed with dates of "SPRING 2018," "SUMMER 2018," or "FALL 2018."
Unavailable at this time are product specifics like price points, mintages and descriptions.
2018 Product Information from 2017 Numismatic Forum
The U.S. Mint offered some product insights during its second annual Numismatic Forum Oct. 17 at its headquarters in Washington, DC. In summary:
Two proof American Silver Eagles will launch in 2018. A standard proof from the West Point Mint goes on sale Jan. 4. This same coin will be inside the 2018 Congratulations Set. An individually sold proof Silver Eagle from the San Francisco Mint will be available sometime in the summer.

In an effort to boost sales of 2018 World War I Centennial Silver Dollars, companion silver medals honoring the U.S. Army, U.S. Navy, U.S. Air Service, U.S. Marine Corps, and U.S. Coast Guard will not be offered together or as standalone products. Instead, the U.S. Mint is pairing one medal with one WWI Silver Dollar for five distinct product options. A combined maximum of 100,000 of these pairings will be sold.

The 2018-W $10 Proof American Liberty 1/10 oz. Gold Coin is being offered Feb. 8 as a more affordable option to the 1-ounce version released in 2017.

The 2018-S Reverse Proof Silver Proof Set scheduled for summer was developed to mark the 50-year anniversary of regular silver proof sets from the San Francisco Mint.

The fall release of the 2018 Breast Cancer Awareness Coin and Stamp Set is expected to be limited to 25,000 sets and will include a 50c clad proof and Breast Cancer Awareness stamp. Its preliminary release date is Oct. 18.
In other highlights:
On Jan. 25, look for the "Life" design on the 2018-W Proof American Platinum Eagle. The "Liberty" and "Pursuit of Happiness" designs will follow in 2019 and 2020.

"Pink gold" Breast Cancer Awareness coins for March should be popular based on pattern strike images the U.S. Mint presented at the forum.

Another unique 2018 addition is a proof American Palladium Eagle which is scheduled for release next fall.

In another forum revelation, proof American Gold Eagle products will feature new burgundy cases and a narrower package design for the four-coin set.
For the latest listings, visit the U.S. Mint's product schedule for 2018.