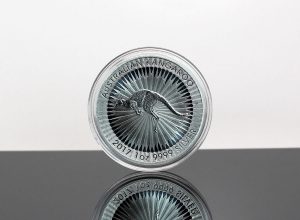 Australian bullion demand rebounded in September, according to figures from The Perth Mint.
The Mint's gold sales doubled the previous month and its silver sales bounced from their lowest level in a year.
Bullion Sales in September 2017
The Perth Mint sold 46,415 ounces in gold coins and gold bars last month, the most since January and 101% more than in August. However, the total was down 21.1% from September of last year.
Year to date sales at 269,882 ounces fell 16.5% from the 323,080 ounces sold during the first nine months of 2016.
Perth Mint sales of silver bullion reached 697,849 ounces, jumping 78% from August when they ended at a 1-year low. The total was still 32.4% lower than September 2016.
For the January to September period, silver sales at 7,218,110 ounces dropped 25.9% from the 9,737,922 ounces delivered through the same months in 2016.
Perth Mint Gold and Silver Sales by Month
Below is a monthly summary of Perth Mint bullion sales from September 2016 to September 2017. The figures show monthly ounces of gold and silver shipped as minted products by The Perth Mint to wholesale and retail customers worldwide. It excludes sales of cast bars and other Group activities including sales of allocated/unallocated precious metal for storage by the Depository.
Perth Mint Bullion Sales (in troy ounces)
Silver
Gold
September 2017
697,849
46,415
August 2017
392,091
23,130
July 2017
1,167,963
23,675
June 2017
1,215,071
19,259
May 2017
826,656
29,679
April 2017
468,977
10,490
March 2017
716,283
22,232
February 2017
502,353
25,257
January 2017
1,230,867
72,745
December 2016
430,009
63,420
November 2016
984,622
54,747
October 2016
1,084,231
79,048
September 2016
1,031,858
58,811