Numismatic Guaranty Corporation (NGC) authenticated and graded the Hercules Collection, one of the finest and most complete sets of modern Chinese coins ever assembled.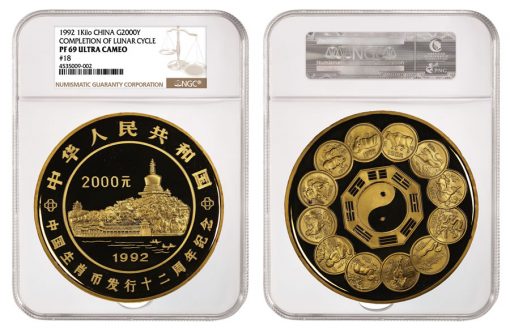 The Hercules Collection of more than 2,000 pieces includes a high-grade example of almost every non-circulating modern coin issued by China since 1979.
"We are honored to have been chosen to certify the most important collection of modern Chinese coins ever graded, cementing our position as the premier grading service for modern Chinese coins," said Steven R. Eichenbaum, CEO of NGC. "We are also excited to be able to present this phenomenal collection in an online image gallery, so that others can learn about and enjoy these remarkable coins."
The coins' vibrant images celebrate China's people, culture, history and achievements, from the ancient Terracotta Army and Great Wall to the modern 2008 Olympics and first Chinese spacewalk. The Lunar series revolves around the 12-year cycle that rotates among animals. The Panda series, honoring China's beloved and endangered animal, is popular with collectors.
Included in the Hercules Collection are more than 1,100 commemorative issues, more than 500 Panda issues, more than 300 Lunar issues and almost every Unicorn issue. The vast majority of the coins — more than 80% — achieved at least NGC PF 69 or NGC MS 69.
Among the top coins of the Hercules Collection are two impressive gold coins, each weighing one kilogram (32.15 troy ounces). The large-sized coins, a 1992 Completion of the Lunar Cycle Gold 2,000 Yuan and a 1995 Return of Taiwan Gold 2,000 Yuan, are tied for finest certified of their types at NGC PF 69 Ultra Cameo.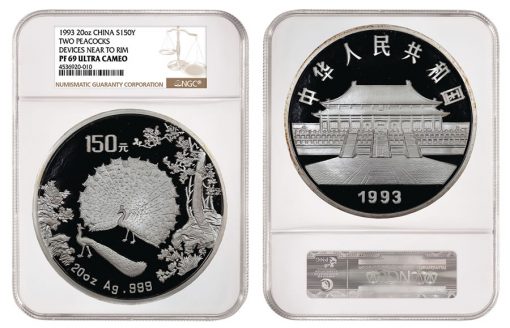 Another large-sized highlight is a 1993 Two Peacocks, Devices Near to Rim, Silver 150 Yuan that weighs 20 ounces and is graded NGC PF 69 Ultra Cameo. It is only the second example of this rare and valuable type to be certified by NGC.
The collector who assembled this one-of-a-kind compilation spent years seeking the finest possible example of every modern Chinese coin. After the collection was nearly complete, he decided it was essential that it be preserved for future generations. He chose NGC to grade it partially because of NGC's advanced holder, which is used by the Smithsonian Institution to protect some of its most important rarities. He also wanted to share the collection with others around the world, which is now possible through NGC's permanent image gallery at NGCcoin.com/Hercules.
The NGC gallery contains more than 4,000 high resolution images of the obverse and reverse of each coin in the collection. It is searchable by type of coin, denomination, year and keyword.
For information about NGC and their grading services, visit www.ngccoin.com.