Maritime scenery and creatures are showcased in a new series of $20 collector coins from the Royal Canadian Mint.
The Mint's "From Sea To Sea To Sea" collection includes three 1 oz. silver coins that depict in gold-plating the Atlantic starfish, the Pacific Salmon and the Arctic beluga whale.
"From the smallest invertebrates to the mightiest whales, many of our most cherished cultural traditions have sprung from the wondrous species living in the Pacific, Arctic and Atlantic oceans," proclaims the Royal Canadian Mint. "This rich biodiversity is an important part of our maritime heritage — and is also at the heart of a magnificent three-coin series."
The Atlantic Starfish coin launched in September with the Pacific Salmon and the Arctic Beluga Whale coins scheduled for respective releases in October and November.
Major specifications for the collector series' coins include:
Mintage: 7,500
Composition: 99.99% pure silver
Finish: proof
Weight (g): 31.39
Diameter (mm): 38
Edge: serrated
Certificate: serialized
Face value: 20 dollars
Reverse Artist: Tony Bianco
Obverse Artist: Susanna Blunt
These coins are issued as legal tender of Canada. Accordingly, their obverses (heads side) feature the Susanna Blunt effigy of the Queen.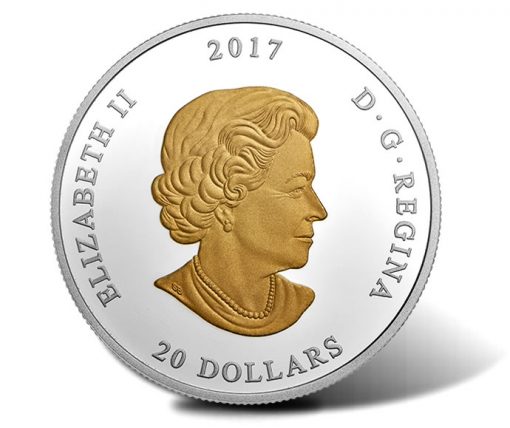 Inscriptions surrounding the gold-plated portrait are ELIZABETH II, 2017, D G REGINA, and 20 DOLLARS.
Ordering
Canadian 2017 $20 From Sea To Sea To Sea coins are available in a subscription and individually as they become available. Pricing is $112.95 CAD, or $90.72 USD, per coin, with free shipping to Canada and the United States. They are also GST/HST exempt.
Order the subscription or single coins directly from the on the Royal Canadian Mint website at mint.ca. An affiliate link to the product page for series is right here, while the one for the first coin is found here.