Stack's Bowers Galleries is offering exceptionally rare U.S. coins as official auctioneer of the August 2017 ANA World's Fair of Money in Denver (money.org/worldsfairofmoney).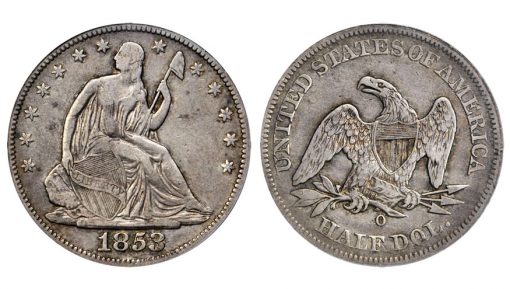 Highlights from the auction lineup, held Aug. 1 to 5, include rarities from the High Rise Collection and the Magnolia Collection. The finest known 1853-O No Arrows half dollar and the Lord St. Oswald-Norweb 1794 Flowing Hair dollar are just two of many important examples.
"This sale is poised to be the numismatic event of the summer," the company said.
Session One on Tuesday, August 1, begins with a selection of Numismatic Americana, from Betts medals to Indian Peace medals and more. Notables include:
A gorgeous silver striking of the Washington Voltaire medal, ex Ford Collection, in lot 24. It is an extremely rare plain edge variant of the iconic Roosevelt Inaugural medal by Saint-Gaudens in lot 34.

Lots 67 through 73 showcase Numismatic Literature relating to the magnificent collection of Colonel E.H.R. Green, presented in partnership with Kolbe and Fanning Numismatic Booksellers.

A diverse offering of colonial issues is highlighted by a lovely AU-50 PCGS (1869) Lord Baltimore Shilling in lot 89.
Federal coinage featuring large cents through quarters concludes the session.
U.S. Coins return for auction on Thursday, August 3, with Session Three starting at 11:00 AM MT. A sextet of 1795 Flowing Hair half dollars kick off the bidding, followed by silver dollars, gold coinage, and a memorable assemblage of Hawaiian coins from the Rainbow Falls Collection.
Excitement will be great at the Colorado Convention Center with the approach of the Stack's Bowers Rarities Night session at 6:30 PM on Thursday. Featuring over 250 lots of world-class rarities, this session will undoubtedly be one of the year's most memorable nights for collectors.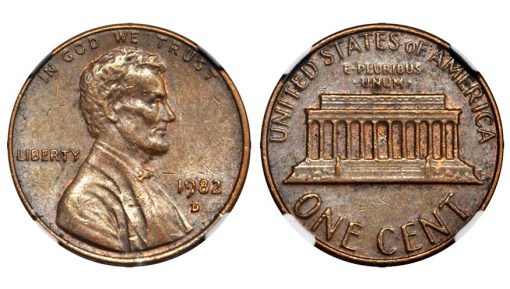 An incomparable trio of regulated 8 escudos bearing the countermarks of goldsmiths Ephraim Brasher, John Burger, and Joseph Richardson open the session, offering rarity and historical significance that goes virtually unmatched. Other notables for the session include:
A historic 1792 Judd-2 copper cent graded Fine-15 (NGC) CAC in lot 2004 that is one of fewer than 10 examples known.

An incredible Choice AU 1793 Liberty Cap cent, ex Loring-Halpern-Pogue, is offered in lot 2009.

A stunning 1796 Draped Bust cent certified MS-66 RB (PCGS) with provenance to the John Whitney Walter Collection.

Lots 2031 and 2032 offer unique Lincoln cent errors from the Denver Mint struck on obsolete bronze planchets.

A magnificent Proof-66 Cameo (PCGS) 1867 Shield nickel with Rays is offered in lot 2040 and is followed by an 1880 Shield nickel graded MS-65 (PCGS) CAC in lot 2041, both from the High Rise Collection.

Lot 2099 showcases the finest 1853-O No Arrows Liberty Seated half dollar, a truly legendary rarity in U.S. numismatics, of which just four are known. The specimen carries an impressive provenance that can be traced back to circa 1881, that includes custodianship in the Garrett Collection, the Queller Family Collection, and the Byers Collection.
Mid-way through the evening's session will come the most highly anticipated offering of the summer, as collectors from all over the world focus on the mile-high auction room when the famous Lord St. Oswald 1794 Flowing Hair dollar, lot 2113, from the Norweb Collection crosses the block. It is graded MS-64 by PCGS and stickered by Certified Acceptance Corp.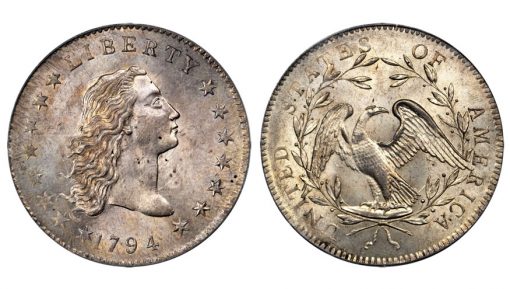 Obtained by English gentleman farmer William Strickland on his tour of early America in 1794-1795, this piece has been treasured since shortly after its striking over 220 years ago. It now ranks as the fourth finest in the Condition Census for the issue and third finest among Mint State examples seen by PCGS. It was last offered at public auction nearly 30 years ago.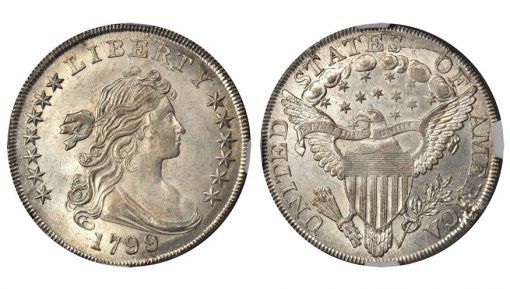 Numerous important silver dollars accompany this rarity, including the incredible MS-64 (NGC) 1799/8 Draped Bust example in lot 2188 that has a provenance to the Cardinal Collection and is also the plate coin for the BB-142 variety in Q. David Bowers' reference on the series.
Later in the night, there is:
The Choice Proof 1879 Flowing Hair Stella in gold, lot 2173.

A beautiful 1879 Coiled Hair example in gilt copper, lot 2174.

A rare AU-53 (PCGS) 1797 Capped Bust Right, Small Eagle half eagle, lot 2176

A pristine MS-66 (PCGS) CAC 1818 Capped Head Left half eagle pedigreed to the Pogue Collection, lot 2183.

A Gem Cameo Proof 1860 Liberty Head half eagle, ex Ten Eyck-Eliasberg-Trompeter, lot 2189.

A 1909 Indian half eagle in Proof-67 * (NGC), lot 2193.

A Proof-64 Cameo (NGC) 1862 Liberty Head eagle, lot 2022.

A Gem Proof 1909 Indian eagle, lot 2205.
Concluding the session is an array of rare Patterns and Territorial issues, including:
Lot 2245 features a Proof-64 (PCGS) example of the desirable 1872 Amazonian Pattern quarter in silver (Judd-1195) from the Collection of Carl Valparaiso.

Lot 2247 features a Proof-64 (NGC) example of the popular 1882 Shield Earring Pattern half dollar in silver (Judd-1700), also from the Valparaiso cabinet.

A MS-61 (NGC) 1849 Massachusetts & California Co. $10 die trial struck in brass (Kagin-6A) is showcased in lot 2250, recently discovered in an English collection that had been last added to in the early 20th century. As the considerably finer of only two known pieces, it is surely a monumental opportunity for Territorial Gold specialists.

An offering of important ingots begins with the astounding 55.48 ounce gold ingot from Harris, Marchand & Co. appearing in lot 2253. Salvaged as part of the S.S. Central America treasure, the visual magnificence of this piece is complemented by its historic significance.
Internet-Only Sessions Five and Six will take place the following week at 9 AM PT on Monday, August 7 and Tuesday, August 8, and offer a diverse array of collector-quality coins across all series.
The Stack's Bowers Galleries World's Fair of Money auction is currently available for viewing and bidding online at StacksBowers.com.