With great pleasure Stack's Bowers Galleries will be offering at the World's Fair of Money one of the very few United States rarities listed in the Guide Book of United States Coins that has never before sold at public auction.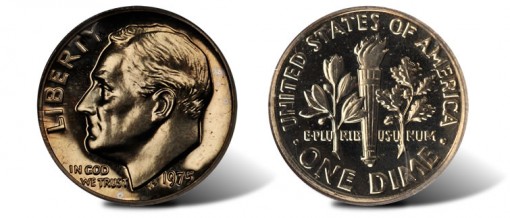 The focus will be on one of just two examples known to us of the 1975-S Proof Roosevelt dime lacking the S mintmark. The presently offered coin was purchased in February 1979 by dealer Fred Vollmer, a professional who specialized in Proof coins and sets and appreciated the unique opportunity.
In 1980 Vollmer sold it to the present consignor as part of a proof set. The set with the dime rarity has been off the market for 31 years. The entire proof set has been recently certified by PCGS, the coins individually graded and encapsulated. The 1975 No S dime has been certified Proof-68 by PCGS. This is the only 1975 No S dime that has been certified by PCGS, making it the ultimate rarity for the PCGS Set Registry collector.
Despite a lot of publicity and attention since then, only one other has been reported. This is simply amazing in terms of American coinage, in which there is a great deal of focus on issues, particularly those of recent generations!
In 1975 the San Francisco Mint produced 2,845,450 sets of brilliant mirror Proofs, each coin—the Lincoln cent, Jefferson nickel, Roosevelt dime, Washington quarter, and Kennedy half dollar bearing a distinctive S mintmark. Except for two dimes.
Dies for the 1975-S Proof coinage were produced at the Philadelphia Mint, including the placement of the S mintmark, and were shipped to San Francisco. At that western facility Proof coins were carefully struck, after which they were sent to another location, encased in clear holders, and shipped to buyers.
By error, one obverse die for the dime did not have the S mintmark added! Although the Mint has never disclosed details of the several other similar errors among other San Francisco Proofs, it can be surmised that the error die was identified, and any coins still on hand near the press were destroyed. At least two escaped!
Study of the "S-Less" Proofs
1968 S-Less Proof Roosevelt Dime: By this time three similar errors had been created, the first being the 1968 Proof Roosevelt dime without an S. No mintage estimates have been published in the Guide Book.
The latest (2012) edition of the Guide Book of United States Coins values a Proof set with such a dime "in average unspotted condition" at $16,000 as compared to $6.50 for a regular 1968-S Proof Set. PCGS has certified 18 of these and NGC 6, per a study conducted for us by our long-time researcher Andrew W. Pollock III using those service's data bases. Total certified by PCGS and NGC: 24.
1970 S-Less Proof Roosevelt Dime: The next rarity on the list is the 1970 Proof dime lacking an S mintmark. The Guide Book estimates that 2,200 sets were made with this error. PCGS has certified 197 of these and NGC 37. Total certified by PCGS and NGC: 234
1971 S-Less Proof Jefferson Nickel: The Guide Book gives the precise figure of 1,655 as the mintage of sets with this rarity. PCGS has certified 164 of these and NGC 54. Total certified by PCGS and NGC: 218
1975 S-Less Proof Roosevelt Dime: No mintage estimates have been published in the Guide Book. Until the present offering, neither service has certified a single coin!
1983 S-Less Proof Roosevelt Dime: No mintage estimates have been published in the Guide Book. PCGS has certified 166 coins and NGC 76. Total certified by PCGS and NGC: 242
1990 S-Less Proof Lincoln Cent: The final in this lineup of six S-Less Proof rarities is the 1990 cent. The latest Guide Book gives a mintage figure of 3,555. PCGS has certified 126 and NGC 40. Total certified by PCGS and NGC: 166
The "S-Less" Proof Rarities at Auction
For each of the six S-Less Proof rarities there has been unbounded enthusiasm on the part of buyers. While all are scarce, enough exist that examples cross the block at regular intervals. The Pollock study reviewed auction offerings from January 2006 to date, primarily the Stack's Bowers Galleries and Heritage data bases, and captured many prices, including those given below. It may be that higher prices were achieved in private sales or in auctions not studied, but we know that at least these figures are reflective:
For the 1968-S a notable sale was a Proof-68 Cameo PCGS at $48,875. This is also the highest in the sample for any S-Less Proof rarity.
A 1970 S-Less dime, NGC Proof-69 Cameo, crossed the block at $1,495.
The 1971 S-Less nickel results include $4,140 for a PCGS Proof-69 Cameo.
For the 1975-S has no known market appearance.
For the 1983 S-Less dime a notable figure is $1,840 for a Proof-69 Deep Cameo PCGS.
For the 1990 S-Less cent Proof-69 Deep Cameo (PCGS) was bid up to $19,550.
Significance of the 1975 S-Less Proof Dime
Among the six S-Less Proof rarities, the presently offered 1975-S dime has these features:
No example has ever been offered at auction before
It is one of just a handful of great federal coinage rarities that has never before appeared in a public sale (the others are in museums)
It is far and away the rarest United States coin since 1874 (the 1873-CC dime is unique and is thus rarer).
This coin is absolutely necessary to complete a collection of Roosevelt dimes.
And, for the builder of a PCGS Registry set, this is the crème de la crème rarity.
The value of this treasure can only be guessed at. There are no market transactions of which we are aware. Among the related errors, a memorable auction price is $48,875 for a 1968 No S dime as noted above. Of that particular variety, the combined services have certified 23 coins.
Although the 1975 S-Less has never been auctioned, we know that it is eleven and a half times rarer than the 1968-S, in terms of auction appearances. Take the $48,875 and multiply it by eleven and the result is a valuation of over a half million dollars for the 1975. It also can be figured other ways.
No matter, anyone seeking a 1968-S can find one readily enough in the marketplace. For anyone seeking a 1968 No S dime can find one readily in the marketplace. For anyone seeking a 1975 Proof Roosevelt dime without mintmark, this may be a truly once in a lifetime opportunity.
"It isn't very often that one gets to see a U.S. coin that has never appeared at auction. The 1975 no S dime is a legendary rarity and I congratulate Stack's Bowers on bringing this incredibly important ultra rarity to auction" said David Hall, CEO of PCGS who has authenticated the coin and whose experts are in the process of grading this beautiful gem.
A six figure worth is estimated, but how far it will go into that territory remains to be seen. Likely, whether or not you ever own this variety will depend upon your success at our auction. This is a powerful statement, and one that can hardly ever be made with regard to American coinage elsewhere. The 1975 S-Less Proof Roosevelt Dime is scheduled to cross the block as part of our Rarities night on August 18, 2011, during our World's Fair of Money auction in Chicago.
For further information on participating in this sale or consigning to a future event, visit www.stacksbowers.com or contact Christine Karstedt at chrisk@stacksbowers.com.
About Stack's Bowers Galleries
Stack's Bowers Galleries, a division of Fortune 500 Company Spectrum Group International Inc., was launched in January 2011, combining the extraordinary histories of Stack's, the oldest rare coin auction and retail company in America, with Bowers and Merena Auctions, one of the world's pre-eminent auctioneers of rare coins and paper money.
The two companies unite to share a combined legacy that spans more than 100 years, and includes the cataloging and sale of many of the most valuable collections to ever cross an auction block — the John. J. Ford, Jr. and Louis E. Eliasberg collections, the Harry W. Bass, Jr. Collection, and the Norweb Collection, to name just a few. Topping off this amazing numismatic history is the inclusion of the world record for the highest price ever realized at auction for a rare coin, the legendary 1933 St. Gaudens Double Eagle which realized an astounding $7.59 million (sold in partnership with Sotheby's).
The company is headquartered in Irvine, California, with offices in New York and New Hampshire. Stack's Bowers Galleries is the Official Auctioneer for several important numismatic conventions, including the ANA World's Fair of Money and ANA/PNG Pre-Show, and the Whitman Coin and Collectibles Expos in Baltimore, three times yearly, and Philadelphia.
For more information about Stack's Bowers Galleries Official Auction of the ANA World's Fair of Money and ANA/PNG Pre-Show, call 800.458.4646 or visit www.stacksbowers.com.