Silver enthusiasts take note. The U.S. Mint just released the 2017-P Ozark Riverways Five Ounce Silver Uncirculated Coin.
Composed of five ounces of .999 fine silver, the 3-inch coin has a reverse design emblematic of Ozark National Scenic Riverways (www.nps.gov/ozar). The national park was established in 1964 to preserve 134 miles of the Current and Jacks Fork Rivers in the Ozark Highlands of southeastern Missouri.
Coin Designs
Designed by Ron Sanders with sculpting by Renata Gordon, the coin's reverse depicts Alley Mill, a steel roller mill built in 1894 to convert wheat into flour. The mill is one of the more than 100 historic structures found within the national site. This same design also appears on the Ozark Riverways quarter. The 25-cent piece was released into circulation in early June and is available in U.S. Mint rolls and bags as well as other collector products. (See photos of the quarter.)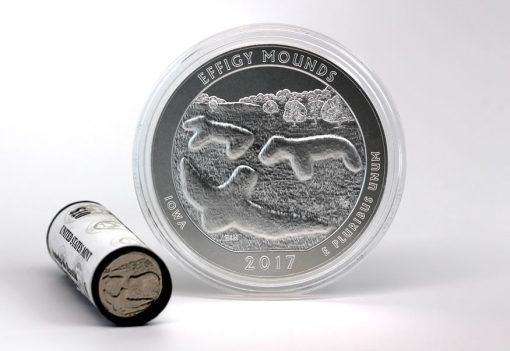 Also like the associated quarter, the obverse shows a portrait of George Washington. The likeness of the first President of the United States was created by John Flanagan and first appeared on quarter dollars in 1932.
A 'P' mintmark on the obverse indicates the coins' production at the Philadelphia Mint.

Five-ounce coins bear edge-incused lettering of 999 FINE SILVER 5.0 OUNCE denoting their content and purity.
Ordering
Available for $149.95, buy the 2017-P Ozark National Scenic Riverways Five Ounce Silver Uncirculated Coin from this U.S. Mint product page or call 1-800-USA-MINT (872-6468). No more than 25,000 will be sold.
Series Background and Bullion Edition
This collectible is the third 2017-dated release in the U.S. Mint's America the Beautiful Five Ounce Silver Uncirculated Coin™ program. Two more coins will appear this year depicting sites of national interest and mirroring designs from the associated quarter program.
Similar to the uncirculated coin, the U.S. Mint strikes counterpart Ozark Riverways bullion coins. They are produced for investors, sold through the Mint's network of authorized purchasers, and are available from coin and precious metal dealers for a premium above their melt value.
These bullion pieces are produced to a brilliant finish at the Philadelphia Mint but they lack mintmarks. The Ozark Riverways bullion coin launched June 5 and has sales of 20,000 through July 10.