Numismatic Guaranty Corporation (NGC) recently authenticated and graded four Lincoln cents struck on wrong planchets, including two 1943 bronze cents.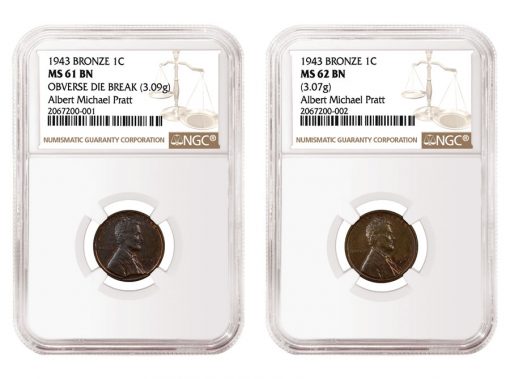 Zinc-coated steel was used for cents in 1943, instead of copper which was used previously, to conserve copper for other uses during World War II. Despite the changeover, a small number of bronze cents were pressed in 1943, making them highly coveted and one of the most famous U.S. error coins.
"1943 Lincoln cents struck on bronze planchets are one of the 'Holy Grails' of US numismatics," says error coin specialist David J. Camire. "It is very exciting to see two examples in a single submission, especially the unique example featuring the die break on the obverse."
In the 100 Greatest Mint Errors book, co-authored by Camire, the Philadelphia Mint-struck 1943 bronze cent was ranked #4. It is believed that only 10-12 1943-P bronze cents exist, which does not include the two most recent examples authenticated by NGC — one graded NGC MS 62 BN and the other graded NGC MS 61 BN.
The former specimen, at MS 62 BN, ranks as the second-finest 1943 bronze cent certified by NGC. The latter is particularly interesting, however, because it is the only example known with a large die break on the obverse.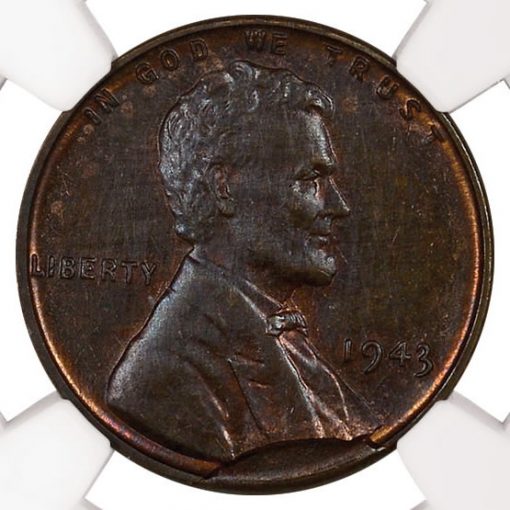 The submission of the two 1943 bronze cents also included two Lincoln cents struck on planchets intended to be used for foreign coins made by the Philadelphia Mint.
There was a 1942 cent struck on an Ecuador 20 Centavos planchet, which NGC graded MS 63, and a 1943 cent on a Netherlands 25 cent planchet that was graded NGC MS 61.
"It is extremely unusual to see wrong planchet error cents from this time period," adds Camire. "Recent appearances of such errors are few and far between."
This group of coins was submitted to NGC by the family of former U.S. Mint employee Albert Michael Pratt. They were brought to the West Hernando Coin Club coin show in January 2017 where they were shown to John A. Zieman Jr. of Z-man's Coins, who submitted them to NGC on behalf of the family.
"NGC has a great reputation for being very consistent, has awesome customer service and very fast turnaround times," says John Zieman.
For more information about Z-man's Coins, visit zmanscoins.com.