Numismatic Guaranty Corporation (NGC) has authenticated and graded one of only two known Great Britain 1950 Pattern Crowns. NGC graded the pattern MS 63.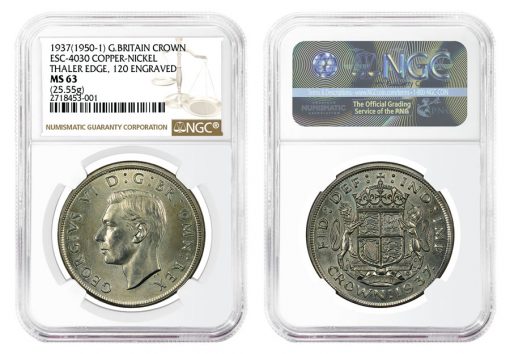 Coins that are made to test new designs or compositions are called "patterns." Two 1950 Crown Patterns are now known to exist, and one of them was recently submitted to NGC.
1950 Pattern Crowns were struck as the United Kingdom prepared to release a new crown coin in 1951 following a 13-year hiatus. The 1951 Crown was to be the first in copper-nickel, departing from earlier crowns minted in silver. It would also feature edge lettering in celebration of the Festival of Britain.
The use of a new composition as well as the addition of an edge inscription made it necessary for the Royal Mint to conduct extensive tests.
The 1950 Crown patterns were struck before the 1951 Festival of Britain dies were completed. The Royal Mint, therefore, used leftover 1937 Crown obverse and reverse dies as well as an edge lettering collar that had been used to strike Maria Theresa Thaler restrikes in the 1940s. This odd pairing was likely one of convenience; the Royal Mint simply needed a collar that fit the diameter of the crown dies.
Besides its unusual edge, the 1950 Pattern Crown also features the number "120" delicately etched into the obverse field in front of King George's face. This number was hand-engraved by Royal Mint staff after the piece was made to represent the tonnage setting of the press used to make it. This engraving helped the workers differentiate between the various test pieces.
The test trials in 1950 to prepare for the 1951 Crown were not known to numismatists until they were reported by Stephen Hill in the Numismatic Circular in October 1998, nearly five decades after their creation. A mint worker at the time likely saved the patterns from destruction and they were later acquired by numismatists.
For information about NGC and their grading services, visit www.ngccoin.com.