The latest United States Mint collector product, the 2017-P Frederick Douglass Five Ounce Silver Uncirculated Coin, makes its debut today.
Limited to 25,000 pieces, the large quarter-dollar features a design honoring the Frederick Douglass National Historic Site in the District of Columbia (www.nps.gov/frdo/). The park was established in 1962 to preserve the home and legacy of Douglass, an abolitionist, orator, civil rights advocate, author, and statesman.
This collectible marks the second 2017-dated release from the U.S. Mint's America the Beautiful Five Ounce Silver Uncirculated Coin™ Program. The Mint's facility in Philadelphia strikes them in 5.000 troy ounces of .999 fine silver to a diameter of 3.000 inches.
Coin Designs
Designed by Thomas Hipschen and sculpted by Phebe Hemphill, the coin's reverse shows Douglass seated at a writing desk, with his home in Washington, DC, in the background. This same image also appears on the Frederick Douglass quarter. The 25-cent piece launched into circulation in early April and is now available in U.S. Mint rolls and bag products.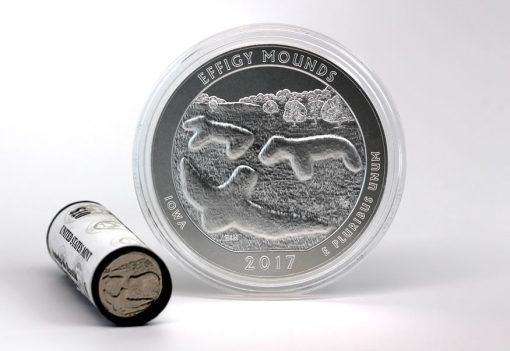 Similar to quarters, obverses (heads side) of 5-ounce coins offer the John Flanagan portrait of George Washington. The likeness of the first President of the United States made its first appearance on the 1932 circulating quarter-dollar and has appeared on them ever since.
A 'P' mintmark on the obverse identifies the coin as being produced at the Philadelphia Mint.

Five-ounce coins bear edge-incused lettering of 999 FINE SILVER 5.0 OUNCE to denote their content and purity.
Ordering
Priced at $149.95, the 2017-P Frederick Douglass National Historic Site Five Ounce Silver Uncirculated Coin becomes available on Tuesday, May 2, at noon ET. Order from this U.S. Mint product page or call 1-800-USA-MINT (872-6468).
Frederick Douglass Five Ounce Silver Bullion Coin
Featuring similar specifications to the uncirculated coin, the United States Mint also strikes Frederick Douglass bullion coins. They are produced for investors, sold through the U.S. Mint's network of authorized purchasers, and are available from coin and precious metal dealers for a premium above the current spot price of the silver they contain.
These bullion pieces are produced to a brilliant finish at the Philadelphia Mint but they do not bear a mintmark. The Frederick Douglass bullion coin launched on April 3 and has sales of 18,400 through May 1.
Frederick Douglass National Historic Site is the thirty-seventh design of the series which debuted in 2010 and runs through 2021. Three more coins will appear this year, continuing to honor sites of national interest and mirroring designs from the associated quarter program.