Swirling maple leaves adorn a new, large-sized coin from the Royal Canadian Mint. Not only does the coin feature a unique curved or dome shape, it is struck in 5 ounces of 99.99% pure silver to a mirror-like proof finish.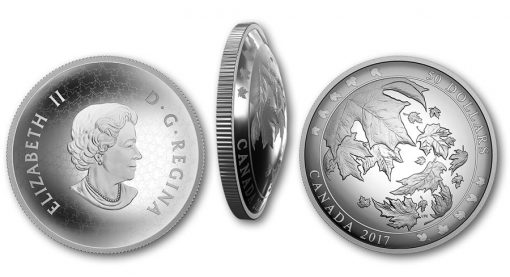 Limited to 2,000 with 75% already sold, the moving maple leaves design is depicted on the coin's convex reverse while a portrait of Queen Elizabeth II appears on the coin's concave obverse.
The reverse is the work of Canadian artist Lisa Thomson-Khan, with her initials "LTK" appearing toward the bottom right of the design. Encircling the leaves are inscriptions of 50 DOLLARS and CANADA 2017. Two sets of five small maple leaves separate the inscriptions.
Obverses carry Susanna Blunt's effigy of Queen Elizabeth II with inscriptions of ELIZABETH II and D G REGINA. The background also features one of the reverse's maple leafs in a recurring pattern.
"Both sides of your coin share a unique relationship not only in their convex/concave shape but also through the reproduction of one of the leaves in a repeating pattern on the obverse," the Royal Canadian Mint describes. "Combined with the obverse's dome-like concave shape, this mesmerizing pattern makes for a dazzling effect."
This collectible is priced at CAD $579.95, which is about US $435. In recognition of its higher price, the Mint has added options to spread the cost over to 2 or 3 monthly payments.
Specifications as provided by the Royal Canadian Mint are:
Mintage: 2,000
Composition: 99.99% pure silver
Finish: proof
Weight (g): 157.6
Diameter (mm): 60
Edge: serrated
Certificate: serialized
Face value: 50 dollars
Reverse Artist: Lisa Thomson-Khan
Obverse Artist: Susanna Blunt
Ordering
The 2017 $50 Maple Leaves in Motion 5 oz. Silver Convex Coin is sold directly by the Royal Canadian Mint at mint.ca with an affiliate link to the its product page right here.
Each coin is encapsulated and ships within a red-lacquered presentation case with a black beauty box.