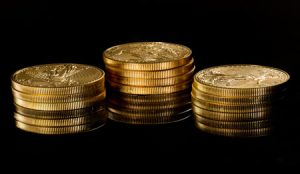 It's out with the old and in with the new again. 2017-dated American Eagle Gold, Silver and American Buffalo Gold Bullion Coins will launch on Jan. 9, the United States Mint announced Wednesday. They will be sold on an unallocated basis.
2017 American Platinum Eagles will be available in late January. The U.S. Mint said it will provide more details about their release at a later date.
The agency also revealed that it is no longer striking American Silver Eagles and American Gold Buffalo bullion coins dated for 2016, and that it will continue to sell those that they have already made until they're gone. How many are left was not disclosed.
The U.S. Mint is "completing production" of bullion 2016 American Gold Eagles, which just scored their strongest sales month since July 2015. Upon completion, remaining inventories will also be sold until they're depleted.
U.S. Mint bullion coins are distributed through a network of Authorized Purchasers (AP's) who consist of major coin and precious metals dealers, brokerage companies, and other participating financial intermediaries. AP's buy them from the U.S. Mint at melt value, plus:
3% for each 1 oz. American Gold Eagle
5% for each 1/2 oz. American Gold Eagle
7% for each 1/4 oz. American Gold Eagle
9% for each 1/10 oz. American Gold Eagle
$2.00 for each American Silver Eagle
4% for each American Platinum
AP's then resell them in smaller quantities at a markup to other dealers and the public.