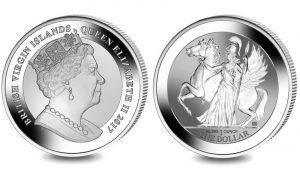 2017 Pegasus Silver Bullion Coins are selling fast, according to the Pobjoy Mint.
Produced on behalf of the British Virgin Islands in 1 ounce of .999 fine silver with designs in reverse proof, the Mint said two-week sales of the bullion piece reached 35% of the 50,000 mintage.
Reverses (tails side) feature mythical Greek images of Athena, the Olympian goddess of wisdom, and the winged horse Pegasus. Athena appears holding a spear in her left hand and the reigns of the golden bridle used to tame Pegasus in her right hand. Below them are inscriptions of Ag 999 1 OUNCE and ONE DOLLAR. There is also a 'P' privy mark under Pegasus's tail .
Approved by Buckingham Palace, obverses carry an effigy of Her Majesty Queen Elizabeth II that is used exclusively by Pobjoy Mint. There are surrounding inscriptions of BRITISH VIRGIN ISLANDS, QUEEN ELIZABETH II and 2017.
Coins are minted to a diameter of 38.60 millimeters and weigh 31.103 grams. Each is struck four times to produce the unique frosted-finish background with the designs sculpted in striking relief.
As of this writing, Pobjoy Mint buying options include a single coin and sets of 10, 20 or 50 coins at prices ranging from $23.90 to $1,120.00. Precious metals and coin dealers are also selling them for about $5.50 per coin over spot with discounts offered at higher quantities.
Single coins are in an individual heat-sealed clear plastic while sets of multiple coins are in heat-sealed clear plastic sheets.