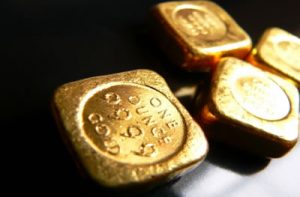 Gold futures closed at a nearly three-month low Friday, marking their seventh loss in eight sessions and their first weekly decline in three weeks.
Gold for December delivery on Friday lost $7.80, or 0.6%, to settle at $1,310.20 an ounce on the Comex division of the New York Mercantile Exchange. The settlement is the lowest since June 23 when gold ended at $1,263.10 an ounce. The day's decline was attributed to a quicker-than-expected rise in U.S. inflation, which boosted the dollar on higher bets of a Fed rate hike this year.
"Dollar strength is the headwind," Reuters quoted Rob Haworth, senior investment strategist for U.S. Bank Wealth management in Seattle. "Today [Friday] you've got enough in the inflation data to increase odds of a Fed rate increase."
Consumer prices rose 0.2% in August compared to the expected 0.1% increase, and the rate of annual inflation climbed 1.1%. The core rate moved up 2.3% compared to a year earlier, the Labor Department reported.
Gold futures shed 1.8% this week after prior two weekly gains of 0.6% and 0.1%. They are now $250, or 23.6%, higher than the final settlement in 2015 at $1,060.20 an ounce. In looking ahead to next week, Kitco News offers the following forecasts via their Wall Street vs. Main Street survey:
"The results of Kitco's professional survey reflect significant uncertainty in the marketplace with most analysts unsure on gold's short-term move. This week, 13 analysts and traders took part in the survey; of which 38% expect prices to move higher next week. The remaining participants — split evenly at 31% — see lower or sideways trading.

Despite a close race, Main Street appears to be a little more optimistic on gold next week based on the 1,251 votes tallied. A total of 591 voters, or 48%, are bullish on the metal next week while 530 voters, or 42%, and 130 participants, or 10%, are bearish and neutral, respectively."
Also lower for the seventh time in eight sessions, silver for December delivery fell 17.9 cents, or 0.9%, to close at $18.862 an ounce. The settlement is the weakest since Aug. 31.
Silver futures lost 2.6% this week after edging up less than 0.1% last week. They soared 3.8% the week before then. The precious metal is $5.06, or 36.7%, higher than its final 2015 settlement of $13.803 an ounce.
In PGM futures on Friday and for the week:
October platinum settled down $16.20, or 1.6%, to $1,017.60 an ounce, for a 4.7% weekly loss.

Palladium for December delivery surged $15.80, or 2.4%, to $672.40 an ounce, but still declined 1% from its price of a week earlier.
Year to date, platinum is up 13.9% while palladium is 19.6% higher.
London Precious Metals Prices
London precious metals prices ended mostly lower on Friday, and they all declined on the week. In comparing their levels from Thursday PM to Friday PM:
Gold shed $2.45, or 0.2%, to $1,308.35 an ounce.
Silver dropped a nickel, or 0.3%, to $18.91 an ounce.
Platinum declined $16, or 1.6%, to $1,015 an ounce.
Palladium was unchanged at $656 an ounce.
Their weekly losses totaled 1.7% for gold, 2.6% for silver, 5.4% for platinum and 3.2% for palladium.
US Mint Bullion Coin Sales in 2016
U.S. Mint bullion products posted stronger gains this week with gold sales the highest since the week ended Aug. 11 and silver sales the best since the week ended July 1. In week-over-week comparisons:
Gold coins advanced 25,000 ounces after climbing 22,000 ounces last week. This week's splits include 22,000 ounces in American Gold Eagles compared to 18,500 ounces previously and 3,000 ounces in American Gold Buffalo compared to 3,500 ounces previously.

Silver coin sales advanced 745,000 ounces after rising by 177,500 ounces previously. The weekly splits include 740,000 ounces in American Silver Eagles compared to 170,000 ounces previously and 5,000 ounces in America the Beautiful Five Ounce Silver Uncirculated Coins compared to 7,500 ounces previously.
Below is a sales breakdown of U.S. Mint bullion products with columns listing the number of bullion coins sold during varying periods Products with an asterisk (*) are no longer available.
US Mint Bullion Sales (# of coins)
Friday Sales
Last Week
This Week
Aug Sales
Sept Sales
2016 Sales
$100 American Eagle 1 Oz Platinum Coins*
0
0
0
1,000
0
20,000
$50 American Eagle 1 Oz Gold Coins
8,500
14,500
18,500
50,000
38,000
524,000
$25 American Eagle 1/2 Oz Gold Coins
1,000
1,000
2,000
3,000
4,000
55,000
$10 American Eagle 1/4 Oz Gold Coins
2,000
6,000
4,000
4,000
10,000
110,000
$5 American Eagle 1/10 Oz Gold Coins
10,000
20,000
15,000
60,000
50,000
665,000
$50 American Buffalo 1 Oz Gold Coins
1,500
3,500
3,000
9,000
7,500
139,000
$1 American Eagle 1 Oz Silver Coins
100,000
170,000
740,000
1,280,000
1,050,000
29,950,500
2016 Shawnee 5 Oz Silver Coins*
0
0
0
0
0
105,000
2016 Cumberland Gap 5 Oz Silver Coins*
0
0
0
0
0
75,000
2016 Harpers Ferry 5 Oz Silver Coins
0
0
0
1,900
0
36,100
2016 Theodore Roosevelt 5 Oz Silver Coins
0
1,500
1,000
27,500
2,500
30,000