The Royal Canadian Mint generated a lot of buzz when it released the 2016 $3 Queen Elizabeth Rose Silver Proof Coin.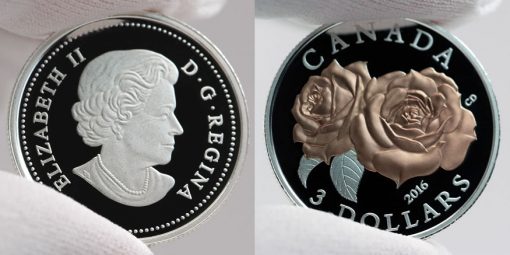 Containing 1/4 oz. of .9999 fine silver, the coin has added appeal with pink gold plating employed to bring out the color of the roses' blooms.
We've been watching coins with unique gold treatments like it, since the U.S. Mint will release pink gold coins in 2018 to commemorate the fight against breast cancer. The silver rose coin went on sale in April and has moved in and out of stock ever since. In late May, the Mint briefly re-opened sales when it announced that 95% of the available 10,000 sold.
Given the attention it received, we ordered one soon after its April release so we could follow-up with some photos. It shipped in the third week of June when the Mint charged CAD $44.95, which converted to a credit card charge of US $35.46 with free shipping.
Buyers appear to be mostly happy with their purchase. The coin's online product shows 116 reviews with an overall favorable rating of 4.6 out of 5. The biggest detraction is its smaller size, according to 21 reviewers. Its diameter is 27 millimeters. For U.S. readers, that's slightly larger than diameters of Presidential and Native American $1 Coins.
Below are several photos of one of the coins and its packaging.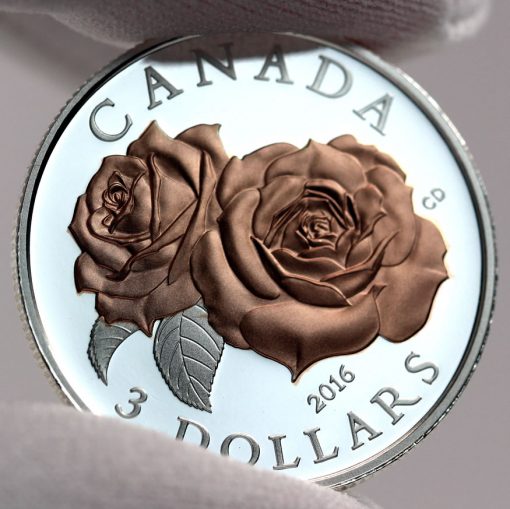 | | |
| --- | --- |
| Another view of the reverse | One more view of the reverse |
| | |
| --- | --- |
| A photo of the obverse | Another photo of the obverse |