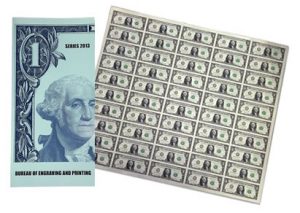 The Bureau of Engraving and Printing is now accepting orders for large, uncut currency sheets of Series 2013 $1 Federal Reserve notes.
Printed on newer presses that use larger currency paper, the notes are available for the first time in a full sheet of 50 and in the smaller subject sizes of 5; 10; 20; or 25.
The dollars were printed in Fort Worth for the Federal Reserve Bank of Dallas, and bear the signatures of Secretary of the Treasury Jacob Joseph "Jack" Lew and former Treasurer of the United States Rosa "Rosie" Gumataotao Rios.
These sheets follow older, no longer available BEP products with Series 2009 $1 notes. Those featured the signatures of Rios and former U.S. Treasury Secretary Timothy Franz "Tim" Geithner, and came in smaller subject sizes of 4; 8; 16; and 32.
Read about the differences between the 32-subject and 50-subject sheets.
Options and prices for the new currency sheets are:
5 subject sheet (Dallas) for $18.50,
10 subject sheet (Dallas) for $27.00,
20 subject sheet (Dallas) for $43.00,
25 subject sheet (Dallas) for $50.50, and
50 subject sheet (Dallas) for $86.00.
Each has respective premiums of $13.50, $17, $23, $25.50, and $36. The BEP does not charge for shipping.
Ordering
The new Series 2013 $1 Uncut Currency Sheets are available from the BEP online store at www.moneyfactorystore.gov/uncutcurrency.aspx, or by calling 800-456-3408.
About the BEP
The BEP is the largest producer of security documents in the United States. It prints billions of Federal Reserve Notes each year for delivery to the Federal Reserve System. It also produces products for money collectors to include currency sheets, note collections, intaglio prints, vignettes, and presidential portraits.