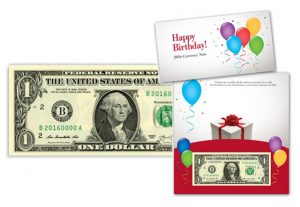 Earlier today, July 6, the Bureau of Engraving and Printing (BEP) started selling a new special occasion product, the 2016 Happy Birthday Currency Note.
This product features an uncirculated Series 2013 $1 note with a serial number beginning with "2016xxxx." The dollar bill is protected by a clear, acid-free polymer sleeve and presented in a birthday-themed folder.
Pricing is $5.95, with quantities of 50 or more available for $4.50 each. Place orders using the BEP's online store, www.moneyfactorystore.gov, or by calling 800-456-3408.
BEP products may also be ordered by fax at 1-888-891-7585, or mail to Bureau of Engraving and Printing, Mail Order Sales, 515M, 14thand C Streets, SW, Washington, DC, 20228.
About the BEP
The BEP is the largest producer of security documents in the United States. It prints billions of Federal Reserve Notes each year for delivery to the Federal Reserve System. It also produces products for collectors to include intaglio prints, vignettes, and presidential portraits.