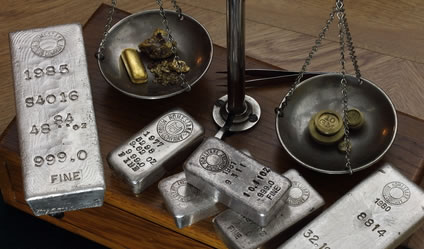 Gold futures rallied on Friday, scoring their first weekly increase in four weeks, after a report for May showed the U.S. economy added the fewest number of jobs in more than 5-1/2 years.
Gold for August delivery settled up $30.30, or 2.5%, to $1,242.90 an ounce on the Comex division of the New York Mercantile Exchange.
"The sharp drop in non-farm payrolls is negative for the dollar and positive for gold," Reuters quoted ABN Amro analyst Georgette Boele. "Expectations for a rate hike soon have clearly diminished … Precious metals prices will fly higher."
U.S. nonfarm payrolls increased by only 38,000 jobs last month, the fewest since September 2010, the Labor Department said on Friday.
"Not even a magician can take this number and make it sound good," The Wall Street Journal quoted Quincy Krosby, a market strategist at Prudential Financial.
Additionally, revisions showed employers hired 59,000 fewer workers in March and April than previously estimated.
Gold futures advanced 2.2% on the week after logging three prior weekly declines of 2.9%, 1.6% and 1.7%. As recently as Thursday, gold notched a tenth loss in eleven sessions and settled at a more than 14-week low. With the gains on Friday, the yellow metal is 17.2% higher so far this year.
In looking ahead to next week, Kitco News offers the following forecasts via their Wall Street vs. Main Street survey:
"Twenty-one analysts and traders took part in a survey for market professionals. Twelve, or 57%, said they were bullish. Four, or 19%, were bearish, while another five, or 24%, were neutral…

Meanwhile, this week's Kitco's online survey received 643 votes. A total of 326 respondents, or 51%, said they were bullish for the week ahead, while 234, or 36%, were bearish. The neutral votes totaled 83, or 13%."
Advancing on Friday for a second session in a row, silver for July delivery tacked on 34 cents, or 2.1%, to settle at $16.365 an ounce. Silver prices climbed 0.6% higher this week — their first weekly increase in five weeks, and padded their 2016 gains to 18.6%.
In PGM futures on Friday and for the week:
July platinum moved up $21.80, or 2.3%, to $981.90 an ounce, but slipped 30 cents from a week ago.

Palladium for September delivery jumped $14.90, or 2.8%, to $549.35 an ounce, for a 1.9% weekly increase.
Year to date, platinum is 9.9% higher while palladium is 2.3% lower.
London Precious Metals Prices
London precious metals climbed on Friday and were mixed for the week. In comparing their levels from Thursday PM to Friday PM:
Gold added $28.10, or 2.3%, to $1,240.50 an ounce.
Silver added 12 cents, or 0.8%, to $16.10 an ounce.
Platinum added $14, or 1.5%, to $979 an ounce.
Palladium gained $16, or 3%, to $554 an ounce.
For the week, gains included gold by 2% and palladium by 1.5% while losses totaled 1.2% for silver and 0.5% for platinum.
US Mint Bullion Coin Sales in 2016
United States Mint bullion sales were mixed this week with the overall gold coin total matching last week while 2016 American Silver Eagles logged their lowest weekly total of the year. In the latest week-over-week comparisons:
U.S. Mint sales of gold coins advanced 24,500 ounces each week. The weekly splits were different, however, with 19,000 ounces in American Gold Eagles compared to 21,500 ounces previously, and 5,500 ounces in American Gold Buffalos compared to 3,000 ounces previously

American Silver Eagles climbed by just 650,500 ounces after rising by 891,000 ounces last week.
The U.S. Mint restricted this week's sales of American Silver Eagles to 1,166,500 coins. Bullion distributors ordered 55.8% of them. 2016 Silver Eagles are running at a record pace with sales of 23,484,000 coins, representing a 31.4% increase over those sold through same time in record-breaking year 2015.
Below is a sales breakdown of U.S. Mint bullion products with columns listing the number of bullion coins sold during varying periods of time.
US Mint Bullion Sales (# of coins)
Friday Sales
Last Week
This Week
Apr Sales
May Sale
June Sales
2016 Sales
$50 American Eagle 1 Oz Gold Coins
0
18,500
17,000
93,500
64,500
9,500
353,000
$25 American Eagle 1/2 Oz Gold Coins
0
1,000
2,000
6,000
7,000
0
43,000
$10 American Eagle 1/4 Oz Gold Coins
0
6,000
0
14,000
10,000
0
76,000
$5 American Eagle 1/10 Oz Gold Coins
0
10,000
10,000
55,000
60,000
0
435,000
$50 American Buffalo 1 Oz Gold Coins
0
3,000
5,500
19,500
18,500
3,000
101,000
$1 American Eagle 1 Oz Silver Coins
0
891,000
650,500
4,072,000
4,498,500
71,000
23,484,000
2016 Shawnee 5 Oz Silver Coins
0
0
0
0
0
0
105,000
2016 Cumberland Gap 5 Oz Silver Coins
0
0
0
64,000
11,000
0
75,000