Optical illusions emerge from Canadian landscapes on five 2016 coins from the Royal Canadian Mint.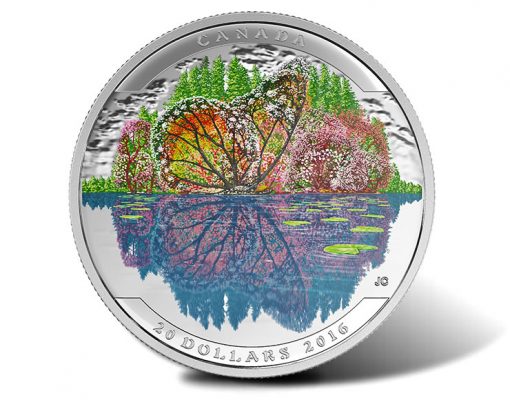 Named the Landscape Illusion Series, the second coin from the collection reveals a monarch butterfly. It is available individually or as a part of a subscription. The complete five-coin series includes the following issues:
Coin 1: Mountain Goat (released in April)
Coin 2: Monarch Butterfly (this release)
Coin 3: Salmon (ships in July)
Coin 4: Pronghorn Antelope (ships in September)
Coin 5: Snowy Owl (ships in November)
Each offers an image of a Canadian landscape and combines natural elements to create an optical illusion of wildlife. The 2016 $20 Butterfly Silver Coin depicts flowering dogwood and black plum trees rising above the calm waters of a lake. When looking closer at the design, however, a butterfly emerges. One of the butterfly's wings lies outstretched among the branches while the other appears as a reflection in the water. Nearby, a northern map turtle lingers and presents the illusion of the butterfly's body and eye.
Canadian artist Julius T. Csotonyi designed the scene. Reverse inscriptions include CANADA, the coin's legal tender face values of 20 DOLLARS, the year 2016, and the artist's initials, JC.
Susanna Blunt's effigy of the Queen is on each obverse (heads side) with inscriptions of ELIZABETH II and D G REGINA.
Specifications for the collector program coins include:
Mintage: 5,500
Composition: 99.99% pure silver
Finish: proof
Weight (g): 31.39
Diameter (mm): 38
Edge: serrated
Certificate: serialized
Face value: 20 dollars
Reverse Artist: Julius T. Csotonyi
Obverse Artist: Susanna Blunt
Ordering
Pricing for the 2016 $20 Butterfly Silver Coin is CAD $99.95, or about US $77. It or the subscription is available directly from the Royal Canadian Mint at mint.ca. Here are affiliate links to the Mint's Butterfly coin
and the 5-coin subscription
.