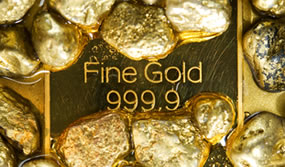 Gold futures climbed on Friday for the first time in four sessions and eked out a weekly gain.
Gold for June delivery tacked on $21.70, or 1.7%, to settle at $1,294 an ounce on the Comex division of the New York Mercantile Exchange. The level was just off from Monday when the yellow metal rallied to a 15-month high at $1,295.80 an ounce.
A weaker-than-expected U.S. jobs report supported safe-havens like gold, opined analysts. The Labor Department said the U.S. economy added 160,000 jobs in April, well below consensus expectations of about 200,000.
"The jobs number was a devastating blow to the people who believe that a June rate hike is on the table," Bloomberg News quoted Phil Streible, a senior market strategist at RJO Futures in Chicago. "Now the chances have declined significantly, and as a result gold and silver are moving up and should move through their previous highs."
Gold futures edged up 0.3% on the week, their second consecutive weekly gain after soaring 4.9% last week, and they are 22.1% above their final close in 2015.
In looking ahead to next week, Kitco News offers the following forecasts via their Wall Street vs. Main Street survey:
"This week, 660 people participated in Kitco's online gold survey. Of those, 418 voters, or 63%, said they expect to see higher prices next week; at the same time, 159 people, or 24%, said they expect to see lower prices next week; and 83 people, or 13%, are neutral on the market.

Out of 35 market professionals contacted, 16 responded, of which nine, or 56%, said they are bullish on gold. Meanwhile, five experts, or 31%, said they are bearish and two (13%) were neutral. Market participants include bullion dealers, investment banks, futures traders and technical-chart analysts."
Rising for a second day after falling for three in row, silver for July delivery added 20 cents, or 1.2%, to settle at $17.527 an ounce — the highest since a week ago Friday when the white metal scored its own 15-month high at $17.819 an ounce. Silver prices slipped 1.6% since then but they are still 27% higher on the year to date.
In PGM futures on Friday and for the week:
July platinum added $21.30, or 2%, to $1,085.10 an ounce, and moved up 0.6% from a week ago.

Palladium for June delivery gained $6.50, or 1.1%, to $607.20 an ounce, but tumbled 3.3% on the week.
For the year so far, platinum is 21.5% higher while palladium is up 8%.
London Precious Metals Prices
London precious metals were mixed on Friday and for the week. In comparing their levels from Thursday PM to Friday PM:
Gold added $8.75, or 0.7%, to $1,289 an ounce.
Silver declined 7 cents, or 0.4%, to $17.31 an ounce.
Platinum added $8, or 0.8%, to $1,072 an ounce.
Palladium declined $3, or 0.5%, to $604 an ounce.
For the week, gold and platinum logged gains of 0.3% and 0.7% while silver and palladium fell by 3% and 3.8%.
US Mint Bullion Coin Sales in 2016
U.S. Mint gold sales climbed by 20,000 ounces this week compared to last week's total of 21,500 ounces. The weekly sales splits include 13,500 ounces in American Gold Eagles compared to 18,000 ounces previously, and 6,500 ounces in American Gold Buffalo compared to 3,500 ounces previously.
The U.S. Mint limited this week's sales of American Silver Eagles to 1,085,500 coins, which included 85,500 coins carried over from last week's supply of 1,087,500 coins. Distributors ordered all of them by Friday. 2016 Silver Eagles are at a record sales pace of 20 million coins, representing a 27.3% increase over the same stretch of time in record-breaking year 2015.
Below is a sales breakdown of United States Mint bullion products with columns listing the number of bullion coins sold during varying periods.
US Mint Bullion Sales (# of coins)
Friday Sales
Last Week
This Week / May
Mar Sales
Apr Sales
2016 Sales
$50 American Eagle 1 Oz Gold Coins
1,000
15,500
11,000
29,000
93,500
290,000
$25 American Eagle 1/2 Oz Gold Coins
0
1,000
3,000
1,000
6,000
39,000
$10 American Eagle 1/4 Oz Gold Coins
0
2,000
0
4,000
14,000
66,000
$5 American Eagle 1/10 Oz Gold Coins
0
15,000
10,000
75,000
55,000
385,000
$50 American Buffalo 1 Oz Gold Coins
1,000
3,500
6,500
7,000
19,500
86,000
$1 American Eagle 1 Oz Silver Coins
84,500
1,002,000
1,085,500
4,106,000
4,072,000
20,000,000
2016 Shawnee 5 Oz Silver Coins
0
0
0
0
0
105,000
2016 Cumberland Gap 5 Oz Silver Coins
0
0
0
0
64,000
64,000