Colorful depictions of men and women who face danger in the line of duty appear on a new series of 99.99% pure silver coins from the Royal Canadian Mint.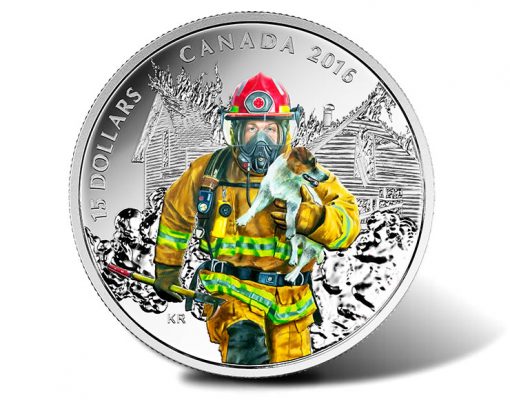 Named the National Heroes Series, the first coin from the collection commemorates firefighters. It is available individually or as a part of a 4-coin subscription.
The complete four-coin collection features the following issues:
Coin 1: Firefighters (this release)
Coin 2: Paramedics (ships in June 2016)
Coin 3: Police (ships in August 2016)
Coin 4: Military (ships in September 2016)
Each bears a colorful reverse (tails side) featuring an everyday hero. For example, the first 2016 $15 Firefighter Silver Coin uses selective color over engraving to create a portrait of a firefighter. The engraved background shows flames and smoke pour out of a residential home as a firefighter emerges in the foreground. He is seen holding bolt cutters in his right hand with his left hand cradling a dog rescued from inside the home.
Canadian artist Ken Ryan designed the image. Reverse inscriptions include CANADA, 2016, the coin's legal tender face values of 15 DOLLARS and the artist's initials, KR.
Susanna Blunt's effigy of the Queen is on each obverse (heads side) with inscriptions of ELIZABETH II and D G REGINA.
Specifications, as provided by the Royal Canadian Mint, include:
Mintage: 10,000
Composition: 99.99% pure silver
Finish: proof
Weight (g): 23.17
Diameter (mm): 36.07
Edge: serrated
Certificate: serialized
Face value: 15 dollars
Reverse Artist: Ken Ryan
Obverse Artist: Susanna Blunt
Ordering
Pricing for each coin is CAD $69.95, or about US $56. Those selecting the subscription will receive each coin automatically and will be charged when a coin ships. They will also receive a free wooden case to hold all four coins.
The individual 2016 $15 Firefighter Silver Coin and 4-coin subscription are available directly from the Royal Canadian Mint at mint.ca. Here are affiliate links to the Mint's first silver coin
and the 4-coin subscription
.