Later today, April 18, the United States Mint will release one of its most popular annual numismatic products. Beginning at Noon (ET), the 2016 Silver Proof Set will be available for $52.95.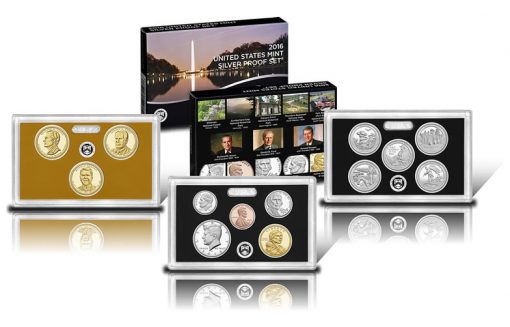 Found in the set are thirteen proof quality coins representing the nation's circulating coinage for the year. Of those thirteen, seven are composed in 90% silver and 10% copper.
One thing to bear in mind, this set is one of the last to include Presidential dollars since 2016 marks the 10th and final year for the U.S. Mint's Presidential $1 Coin Program. In addition, this year's set could be the last to have coins in 90% silver.
Last Year for 90% Silver Coins?
Late last year, the U.S. Mint was granted authority to produce coins in higher silver purity, like .999 fine. The authorization came as part of the FAST Act, which was signed into law on Dec. 4, 2015. The Act struck the traditional 90/10 language and replaced it with "not less than 90 percent silver."
Silver Proof Set Coins
The complete 2016 Silver Proof Set includes the following coins:
2016-S Richard M. Nixon Presidential $1 Coin
2016-S Gerald R. Ford Presidential $1 Coin
2016-S Ronald Reagan Presidential $1 Coin
2016-S Native American $1 Coin
2016-S Silver Kennedy Half-Dollar
2016-S Silver Shawnee National Forest Quarter (Illinois)
2016-S Silver Cumberland Gap National Historic Park Quarter (Kentucky)
2016-S Silver Harpers Ferry National Historical Park Quarter (West Virginia)
2016-S Silver Theodore Roosevelt National Park Quarter (North Dakota)
2016-S Silver Fort Moultrie (Fort Sumter National Monument) Quarter (South Carolina)
2016-S Silver Roosevelt Dime
2016-S Jefferson Nickel
2016-S Lincoln Cent
Coins are struck to collector proof quality at the U.S. Mint facility in San Francisco. They feature sharper reliefs, mirror-like backgrounds and attractive frosted foregrounds — a finish created by using hand-polished coin blanks, polished dies and multiple press strikings. The proof coins also carry S mint marks.
The seven silver coins weigh 1.338 troy ounces. Based on Friday's London Fix for silver of $16.17 an ounce, this gives the set a value in silver of about $21.64. For comparison, last year's 2015 Silver Set had an approximate silver value of $23.28 based on the market conditions when it debuted on May 14, 2015.
All of the remaining six coins are minted in normal circulating composition. For reference, the face value of the thirteen coins total up to $5.91.
Coins of the set are not exclusive to it. For example, the quarters and Presidential dollars are also available separately in their own proof sets. The U.S. Mint earlier introduced the 2016 Presidential $1 Coin Proof Set for $17.95 and the 2016 America the Beautiful Quarters Silver Proof Set for $31.95.
| | |
| --- | --- |
| Photo of the separately sold 2016 Presidential $1 Coin Proof Set | Photo of the separately sold 2016 America the Beautiful Quarters Silver Proof Set. |
Ordering
2016 Silver Proof Sets may be ordered directly from the U.S. Mint's website, located here, or by calling 1-800-USA-MINT (872-6468). No household or ordering limits apply and no pre-determined mintage level has been announced.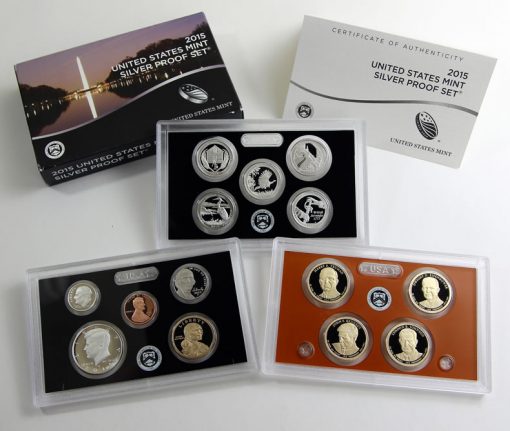 The set from 2015 is still available from the Mint for $53.95. It has sales of 369,243 through April 10, 2016.