One of this year's most popular numismatic products, the 2015 United States Mint Proof Set®, launched at noon ET today, March 24. Priced at $32.95, more than 200,000 will sell in a matter of days with eventual sales likely to reach around 750,000.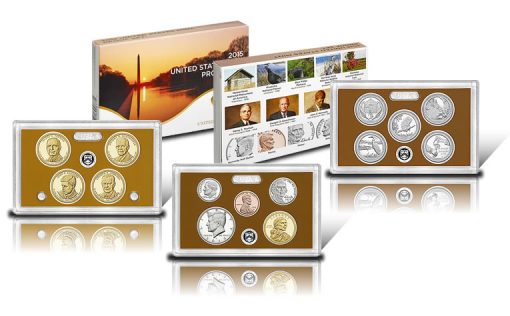 Coins of the annually issued set have a collector-grade proof finish that showcase mirror-like backgrounds and sharp frosted foregrounds. All of them are made at the U.S. Mint facility in San Francisco and feature a 'S' mint mark.
Regular coins in circulation come from facilities in Philadelphia and Denver and have 'P' and 'D' mint marks. And while proof coins of the set are composed of the same base metals as their circulating counterparts, they are struck multiple times with polished dies and blanks to produce a higher level of detail.
Contents of 2015 Proof Set
This year's clad Proof Set has the following fourteen coins:
2015-S Native American $1 Coin
2015-S Harry S. Truman Presidential $1 Coin
2015-S Dwight D. Eisenhower Presidential $1 Coin
2015-S John F. Kennedy Presidential $1 Coin
2015-S Lyndon B. Johnson Presidential $1 Coin
2015-S Kennedy Half-Dollar
2015-S Homestead National Monument of America Quarter (Nebraska)
2015-S Kisatchie National Forest Quarter (Louisiana)
2015-S Blue Ridge Parkway Quarter (North Carolina)
2015-S Bombay Hook National Wildlife Refuge Quarter (Delaware)
2015-S Saratoga National Historical Park Quarter (New York)
2015-S Roosevelt Dime
2015-S Jefferson Nickel
2015-S Lincoln Cent
Ten of them bear designs only to be issued in 2015. This includes the 2015 Native American $1 Coin, the four 2015 Presidential $1 Coins and the five 2015 America the Beautiful Quarters.
Coins of this set are not exclusive to it. For example, proofs of the clad Presidential dollars and clad quarters are available separately. The U.S. Mint earlier introduced the 2015 Presidential Proof Set for $18.95 (see photos of this $1 set) and the 2015 America the Beautiful Quarters Proof Set for $14.95 (see photos of this quarters set). Here are photos of these two earlier released proof sets: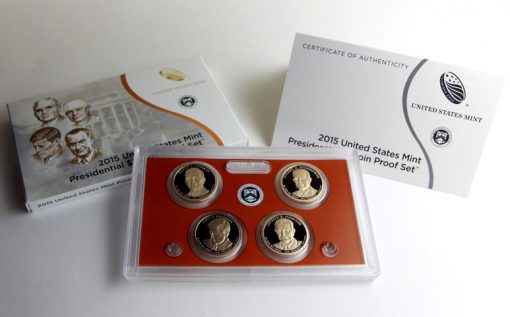 Packaging
Coins are encased in three different protective lenses, and packaged automatically at the San Francisco Mint. One lens has the four Presidential $1 Coins, one lens contains the five America the Beautiful Quarters and the third lens has the remaining coins — the Native American dollar, Kennedy half, Roosevelt dime, Jefferson nickel and Lincoln cent.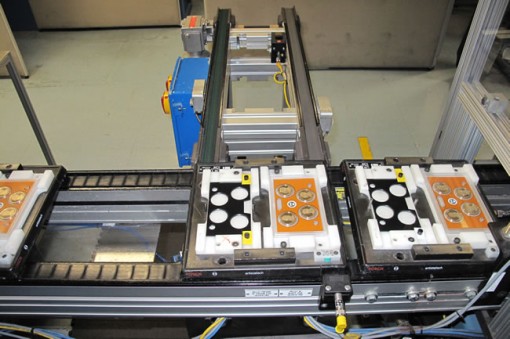 All three lenses ship together in an illustrated cardboard case which includes the description of 2015 UNITED STATES MINT PROOF SET. The back of the case includes images of the sites and individuals honored by some of the coins within.
Ordering Information
2015 Proof Sets may be ordered directly from the U.S. Mint via the proof sets page of the Mint's online store, located here, or by calling toll-free at 1-800-USA-MINT (872-6468).
No household order limits have been established. In addition, no initial mintage limit is in place.