New from the Bureau of Engraving and Printing (BEP) is its 2016 Liberty Intaglio Print, the second of three cards in the agency's Independence Collection. This year's series of prints focuses on the Declaration of Independence with designs emblematic of Life, Liberty, and Pursuit of Happiness.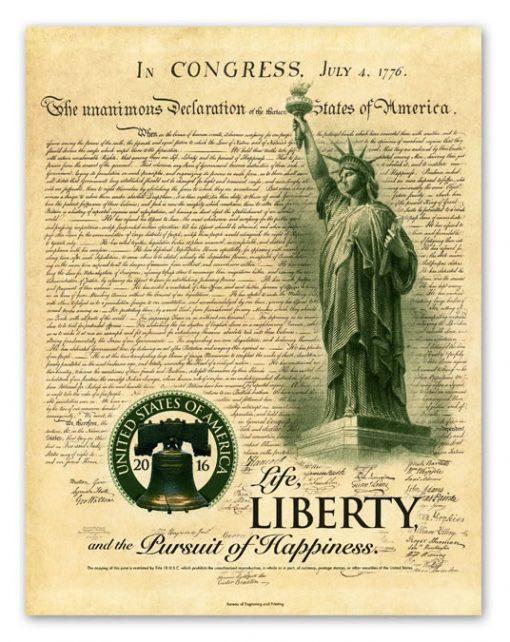 Priced at $22.50 and measuring 8 1/2" x 11", the Liberty Intaglio Print features two major decorative designs.
"This print, 'Liberty', shows an image of the Statue of Liberty, which represents friendship between nations and freedom from oppression," the BEP describes. "The small seal placed below Liberty shows the Liberty Bell. This image also commemorates William Penn's Charter of Privileges by symbolizing the rights and freedoms valued by Americans."
Engraved by Marcus W. Baldwin, the card's image of Liberty (Miscellaneous Die #9225: "Liberty Enlightening the World") first appeared on the $50 Liberty Loan War Bond of 1917.
The print may be ordered directly from the BEP's online store at www.moneyfactorystore.gov/intaglioprints.aspx or by calling 800-456-3408.
The first print for Life launched on Jan. 7 and is still available. The last one for Happiness debuts on Aug. 9, the start day for the ANA's World's Money Show in Anaheim, California.
About the Bureau of Engraving and Printing
The Bureau of Engraving and Printing is the largest producer of security documents in the United States. The bureau prints billions of Federal Reserve Notes for delivery to the Federal Reserve System each year. These notes are produced at facilities in Washington, DC, and Fort Worth, Texas. It also produces products for collectors to include intaglio prints, vignettes, and presidential portraits.