The 65th Infantry Regiment, known as the Borinqueneers, was collectively awarded the Congressional Gold medal Wednesday, April 13, at a ceremony held in Emancipation Hall in the U.S. Capitol Visitor Center.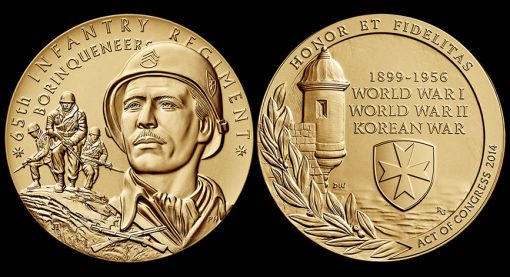 Composed primarily of Puerto Ricans, the U.S. Army 65th Infantry Regiment was the last segregated unit of the U.S. military. Though restricted to noncombat roles during World War I, the regiment served heroically on the battlefields of World War II and Korea, participating in some of the fiercest battles. In Korea alone, soldiers in the regiment earned one Medal of Honor, 9 Distinguished Service Crosses, approximately 250 Silver Stars, over 600 Bronze Stars, and more than 2,700 Purple Hearts.
Shown on the obverse of the gold medal is a depiction of a fictional Borinqueneer staff sergeant. In the background are three soldiers in an inverted "V" formation, taking the high ground with fixed bayonets during an assault on the enemy during the Korean War. The foreground offers the crossed rifles insignia. Inscriptions above the scene read, 65th INFANTRY REGIMENT and BORINQUENEERS. The design was created by United States Mint Artistic Infusion Program (AIP) Designer Joel Iskowitz and sculpted by United States Mint Sculptor-Engraver Phebe Hemphill.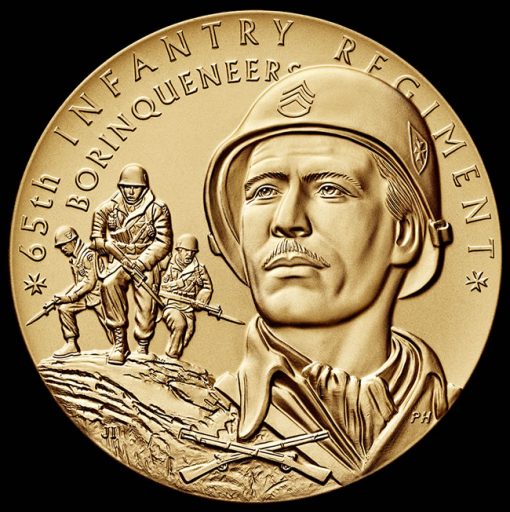 The medal's reverse depicts the Castillo de San Felipe del Morro of San Juan, Puerto Rico. It is a 16th-century citadel, a central symbol of Puerto Rico, and the preferred military command ceremonial parade site of the 65th Infantry Regiment. Inscriptions around the design include HONOR ET FIDELITAS, 1899-1956, WORLD WAR I, WORLD WAR II, KOREAN WAR, and ACT OF CONGRESS 2014. The image was designed by AIP Designer Donna Weaver and sculpted by United States Mint Sculptor-Engraver Renata Gordon.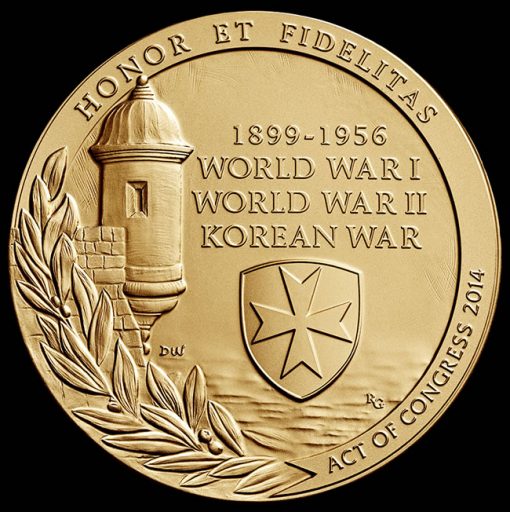 The medal was authorized under Public Law 113-120, which was enacted when President Obama signed the legislation on June 10, 2014.
Bronze replicas of the gold medal were authorized by Congress and are available from the United States Mint. Three-inch replicas may be ordered for $39.95 with 1.5-inch medals available for $6.95. Orders are accepted online at catalog.usmint.gov or by calling 1-800-USA-MINT (872-6468).