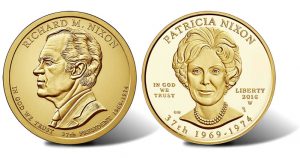 In less than two weeks, on March 16, representatives from the Richard Nixon Foundation (nixonfoundation.org) and United States Mint will commemorate First Lady Pat Nixon's 104th birthday and celebrate the release of coins featuring her and Mr. Nixon.
This event is free and open to the public, and will be held at the Richard Nixon Presidential Library and Museum in Yorba Linda, California. All entrance fees to the library and museum will be waved that day.
The U.S. Mint in February started rolling out collectible products featuring the former president and first lady. Major offerings include $1 coins bearing a portrait of Richard Nixon and .9999 fine $10 gold coins depicting Pat Nixon. As recently as Thursday, the Mint released a $1 coin and medal set honoring the couple.
Ceremony participants include U.S. Mint Chief Council Jean Gentry, Richard Nixon Foundation President Bill Baribault, and the former president's brother, Edward Nixon.
The event's location details follow:
Date: Wednesday, March 16, 2016, 10 a.m. (PT)
Time: 10:00 a.m. (CT)
Location:
Richard Nixon Presidential Library and Museum
18001 Yorba Linda Blvd.
Yorba Linda, CA 92886
This map shows the location of the library and museum:
For U.S. Mint products featuring Mr. and Mrs. Nixon, visit usmint.gov/catalog.