Today, Jan. 6, the United States Mint released special occasion gift sets designed for birthdays and newborns. The two products, the 2016 Birth Set and the 2016 Happy Birthday Coin Set, also represent the first appearance of several 2016-dated collector coins.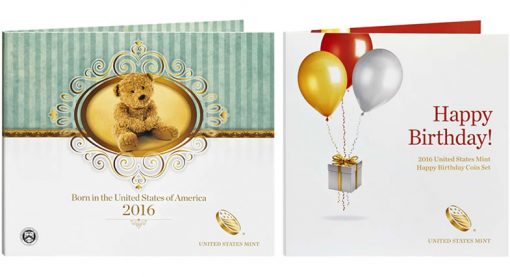 Each set includes five coins struck at the San Francisco Mint and bearing the 'S' mint mark. Both gift sets have the following four coins in common:
2016-S Proof Lincoln Cent
2016-S Proof Jefferson Nickel
2016-S Proof Roosevelt Dime
2016-S Proof Kennedy Half-Dollar
These coins are in collector proof quality. Proof coins feature frosty design elements and mirror-like backgrounds. They are not unique to these two sets, but they will not be available in another collectible product until the 2016 Proof Set launches on Feb. 29.
First or Last 2016 Quarter Included
Both special occasion sets also have one 2016-dated America the Beautiful Quarter. There are five different quarter designs for this year.
The Birth Set includes the 2016-S Proof Shawnee National Forest Quarter for Illinois. It bears the first quarter design for this year with circulation strikes released in February.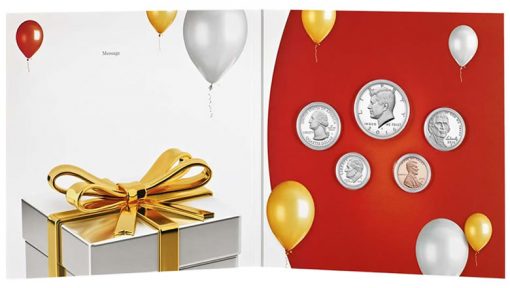 The Happy Birthday Coin Set has the 2016-S Proof Fort Moultrie Quarter for South Carolina, the last 2016 quarter design with circulation strikes issued in November.
These two and the three other quarters for this year become available together in a collectible product that launches next week, the 2016 America the Beautiful Quarters Proof Set. Look for it on Monday, Jan. 11, for $14.95.
Ordering and Packaging
Priced at $19.95, each set may be ordered by visiting the Mint's Gift Ideas section, or by calling 1-800-USA-MINT (872-6468). There is no product or household ordering limits.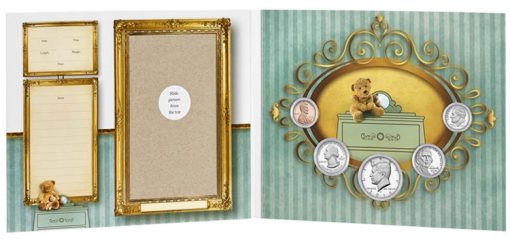 The folder-like packaging for birthday and newborn sets has room for a personalized message and includes a U.S. Mint certificate of authenticity for the coins. The Birth Set also has space to hold a 3" x 5" baby photo.
Sales of Past Gift Sets
The Birth Set was introduced in 2012 and the Happy Birthday Set followed in 2013. Issued annually, most of them remain available.
Sales of 2012-2015 Birth Sets
| Year of Issue | Latest Sales |
| --- | --- |
| 2012 (sold out) | 49,703 |
| 2013 | 40,868 |
| 2014 | 33,401 |
| 2015 | 32,811 |
Sales of 2013-2015 Happy Birthday Sets
| Year of Issue | Latest Sales |
| --- | --- |
| 2013 | 11,397 |
| 2014 | 12,715 |
| 2015 | 14,257 |
Above U.S. Mint sales figures are as of Sunday, Jan. 3, 2016.