Occasionally I gamble on unconventional coins, buying some that aren't always in my comfort zone because they're unique and unusual. I've done this more often with products from the Royal Canadian Mint and the Perth Mint of Australia.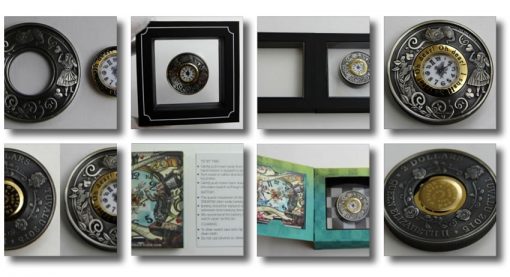 These world mints are among the ones going where others can't or haven't, like using color and other embellishments in making coins.
Some collectors like that, some don't. Honestly, I stayed away from colorized coins and the like until a few years ago. After buying a couple, I realized I was probably too uptight in my thinking. (A display at the U.S. Mint in Denver is mindful that items like animal teeth and shells were once used as money.)
Anyway and to the main point of this article, this summer I found myself looking at a product that was certainly different. The Perth Mint released an Alice in Wonderland "clock coin" that was struck in 2 ounces of 99.9% pure silver, had a pronounced 6 mm thickness, and an antique finish that was promoted as distinctive for each coin.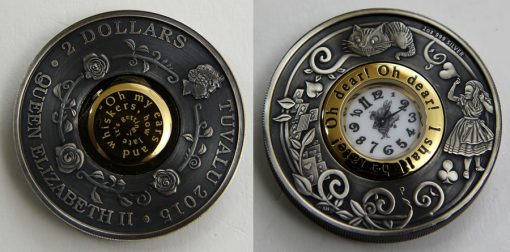 I decided to grab one. It is very unique to say the least. And while I'm not into packaging as I've said many times before, I'm pretty impressed with its presentation as well. If the product was cheaper — issued for AUS $226 although I spent around US $160, it'd make for a nice gift to lure others into coin collecting.
Below are some photos of the coin and its packaging. Let me know what you think.