Final designs for two of the last three Presidential $1 Coins became public Friday when the United States Mint unveiled images of them.
Coins of former presidents have been issued at the rate of four per year since the dollar series kicked off in 2007. The series ends in 2016 with the final three $1s featuring:
Richard M. Nixon, the 37th President
Gerald R. Ford, the 38th President
Ronald Reagan, the 40th President
By law, coins of the series are limited to deceased presidents. That's why the program ends next year and it's also why there's no dollar for Jimmy Carter who served as the 39th President of the United States.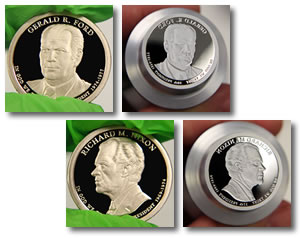 On Friday, the U.S. Mint unveiled images of the designs for the dollars featuring former Presidents Richard M. Nixon and Gerald R. Ford.
The agency said the design for the 2016 Ronald Reagan Presidential $1 Coin will be announced on Feb. 6, 2016, the 105th anniversary of President Reagan's birth. (See Reagan $1 design candidates.)
Also, stay tuned to CoinNews. Next week we'll present some photos of Ford and Nixon proof dollars and the dies used to make them. They were taken during our recent trip to the U.S. Mint in San Francisco.
Update: See Nixon $1 photos and Ford $1 photos.
2016 Ford and Nixon Presidential $1 Coin Designs
Presidential portraits for Ford and Nixon dollars were selected from among 8 design candidates. The candidates were review by several parties with recommendations made by the Citizens Coinage Advisory Committee (CCAC) and the United States Commission of Fine Arts (CFA). The Treasury Secretary was tasked with making the final selections.
Below is designer information and larger U.S. Mint images of the two dollars.
Richard M. Nixon Presidential $1 Coin
Gerald R. Ford Presidential $1 Coin
Common Reverses
Reverses of Presidential $1 Coins share Don Everhart's depiction of the Statue of Liberty. The dollars also have common edge inscription that include their year of issuance, the production facility's mint mark, and E PLURIBUS UNUM.
Availability
As directed by the Treasury Secretary on Dec. 13, 2011, the U.S. Mint ended production of dollar coins for circulation. The Mint makes them now only for coin collectors.
Products with Presidential $1 Coins launch in staggered intervals throughout a year. Some specific release dates should become public by late December.