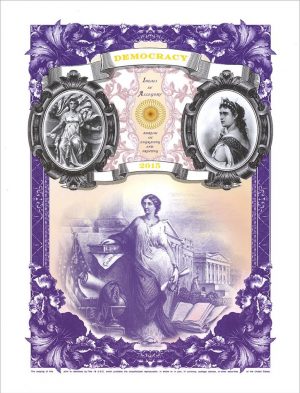 Earlier today, Dec. 1, the Bureau of Engraving and Printing (BEP) released a new intaglio print celebrating democracy.
Entitled "Ideals in Allegory – Democracy," the print features female allegorical figures that represent a government of the people, by the people and for the people.
Priced at $22.50 and measuring 8 1/2" x 11", the print features three major decorative designs. As seen to the left, right and bottom of the card:
To the left is the Vignette Government (Miscellaneous Die #14996) as engraved by William O. Marks in 1940.

To the right is Vignette Columbia (Miscellaneous Die #2349), the female personification of America, as engraved by Charles K. Burt in 1876.

At the bottom center is Vignette Diplomacy (Miscellaneous Die #4105) as engraved by Robert Ponickau in 1894.
Collectors can find the 2015 Ideals in Allegory Democracy Intaglio Print at www.moneyfactorystore.gov.
About the BEP
While the Bureau of Engraving and Printing makes and sells detailed intaglio prints and engravings, it is best known for producing U.S. currency. The agency prints billions of Federal Reserve Notes for delivery to the Federal Reserve System each year. These notes are produced at facilities in Washington, DC, and Fort Worth, Texas.