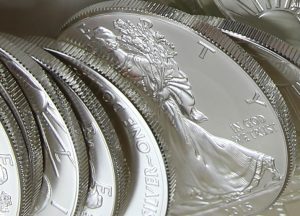 2015 sales of American Eagle silver bullion coins hit an all-time record on Monday, Nov. 30, according to United States Mint figures published on www.usmint.gov.
Consistently high monthly sales led to the record that's now at 44,666,500 ounces. The U.S. Mint is striking the 2015-dated coins through the week of Dec. 7 so the total will continue to grow. The previous annual sales record of 44,006,000 ounces happened in 2014.
Top Five Years for American Silver Eagles
| Rank | Year | Sales Total |
| --- | --- | --- |
| 1 | 2015 | 44,666,500 (as of Nov. 30)* |
| 2 | 2014 | 44,006,000 |
| 3 | 2013 | 42,675,000 |
| 4 | 2011 | 39,868,500 |
| 5 | 2010 | 34,662,500 |
January saw the highest monthly sales this year with 5.53 million ounces. May was the lowest month with just over 2 million ounces. Then there were surprise summers months when demand soared and the U.S. Mint went back to limiting how many of the one-ounce, .999 fine silver coins it sold.
The U.S. Mint has the production capability to meet demand but it is unable to acquire enough planchets for that to happen. As a result, the agency rations American Silver Eagles to prevent extended sales suspensions. This week's allocation amount slipped 8% to 920,500 coins. Last week's supply advanced 11.1% to 1 million coins from the prior week's limit of 900,000 coins. The next weekly allocation will be announced on Dec. 7.
The United States Mint will issue its last weekly allocation of 2015-dated Silver Eagles on Dec. 14, 2014. The bureau will begin accepting orders for 2016-dated Silver Eagles on Jan. 11, 2016.
Produced annually since 1986, the U.S. Mint does not sell American Eagle silver bullion coins directly to the public. Instead, they are sold through a network of authorized purchasers. AP's, consisting of major coin and precious metals dealers, brokerage companies, and other participating financial intermediaries, pay the U.S. Mint $2 more than the spot value of each coin they buy.
Their limited availability has given sellers a reason to charge higher premiums. Today, consumers are paying about $4 to $5.50 per coin over spot with discounts offered at larger quantities.
*Update: Sales ended for the year on Dec. 15 at an all-time high of 47,000,000 coins.