The Royal Canadian Mint this week introduced its first holiday-themed $25 for $25 product, the 2016 $25 Winter Fun Silver Coin.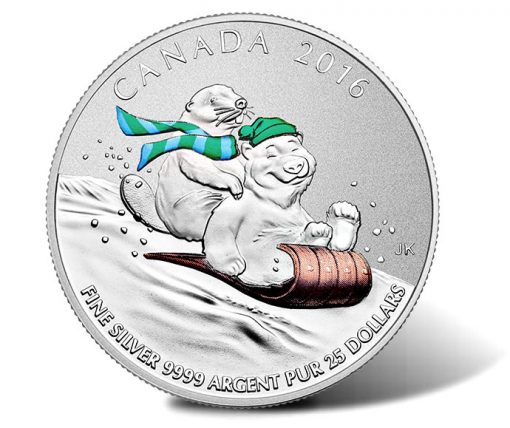 Buying options include the coin by itself, for its face value, or bundled together for $45 with the new 2015 $20 Gingerbread Man Silver Coin. Either option is available tax-free and includes free ground shipping anywhere in Canada and the United States.
Both coins, while featuring different reverse designs and denominations, actually share the same size (27 mm diameter), weight (7.96 grams), silver purity (99.99%) and a specimen finish.
Designed by Jesse Koreck, the reverse of the $25 coin depicts a beaver and polar bear joyfully sledding down a snow hill. Surrounding inscriptions read CANADA 2016, FINE SILVER 9999 ARGENT PUR and 25 DOLLARS.
Obverses show Susanna Blunt's effigy of the Her Majesty with inscriptions of ELIZABETH II and D G REGINA.
Ordering
Limited to 200,000, the 2016 $25 Winter Fun Silver Coin is available from the Royal Canadian Mint at mint.ca. The following affiliate link goes to the Mint's $20 for $20 page
where the coin is listed as well as the two-coin set. There is a household ordering limit of five coins.
This release is the Mint's second $25 for $25 silver coin. In late 2014, the Royal Canadian Mint started selling its 2015 $25 50th Anniversary of the Canadian Flag Silver Coin. It had a mintage ceiling of 225,000 and sold out.